– says focus on vulnerable populations; virtual learning platforms expanded
The People's Progressive Party/Civic (PPP/C) Government is aiming to provide 100 per cent Information and Communications Technology (ICT), specifically internet access, across Guyana by 2025.
This position was recently articulated by the Minister within the Office of the Prime Minister, Kwame McCoy, when he represented Guyana at the Ministerial Roundtable at the International Telecommunication Union (ITU) conference in Bucharest, Romania.
"The Government of Guyana is seeking to provide internet connectivity across 100 per cent of the country by 2025. As part of the process, we are empowering vulnerable sections of the population with the means by which they can access the internet at personal and community levels," McCoy said in his presentation.
According to McCoy, the Government has launched a campaign to provide free internet in public spaces with a focus on under-served communities (300 sites set up to date benefiting over 250,000 residents).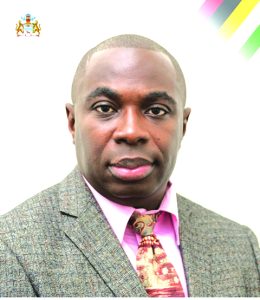 "We are seeking to achieve optimal levels in the building of a digitally integrated knowledge-based society over the next decade. Twenty thousand world-class online academic and skill-based scholarships have been made available to citizens."
"We have expanded virtual learning platforms for all levels of the education system including the installation of Smart classroom features in pilot schools in each administrative region, and we have achieved a national reach of the Guyana Learning Television Channel," he also said.
McCoy explained that the ICT services offered to hinterland villages include IP phone service (free calls to landlines and other villages; receive calls from anywhere in the world) and internet access (including access to online learning resources and e-Services offered by the Government of Guyana).
"In our commitment to bridging the digital divide between the coastal and hinterland communities, the Government of Guyana built its own satellite ground station to provide connectivity services to over 160 locations in hinterland areas. This benefits approximately 60,000 residents living in remote communities across all ten geographic regions of Guyana," the Minister told his colleagues in Romania.
In September of last year, a total of 23 Community Service Officers from eight different regions completed training in Information and Communications Technology, enabling them to take these skills back to residents within their communities.
The three-week training programme was conducted with CSOs through Global Technology. Amerindian Affairs Minister Pauline Sukhai had indicated that 96 persons had been trained in ICT throughout the year up to that point and lauded this initiative as an investment by Government into Guyanese youths.
"By the end of 2021, our target is achievable and that is, we will be training 200 students from the programme. We will also achieve 220 persons trained in the skill of installing solar panels and maintaining them; and other 220 as licensed drivers with skills to service light and heavy-duty machinery," the Minister had said at the graduation ceremony.
The trainees hailed from communities such as Akawini, Kabakaburi, Mainstay, Karawab, Mashabo, Bethany, Laluni, Siparuta, Kako, Tasserene, Princeville, Karaudarnau, Katoonarib, Awaruwaunau, Hururu, Malali, Maritaro, Rockstone and Great Falls. This, Sukhai said, reiterates the Government's agenda of offering opportunities for hinterland communities and people.
"This is an investment in our young people. Our Government has put out a number of initiatives that are making positive waves and impact on young people's lives in our country…The PPP/C Government does not only support the training for coastal students but equally so, the hinterland students are all part and parcel of the agenda of our Government," she had said.
The Government has said that the increase in ICT access throughout Guyana can be tied to the PPP/C Government's bold decision to liberalise the telecommunication sector soon after they entered office in 2020.
In October 2020, Prime Minister Phillips, who is the subject Minister with responsibility for Telecommunications, announced that Government had issued Commencement Orders, fully bringing into force the Telecommunications Act 2016 (the "Act") and the Public Utilities Commission Act 2016. This was done less than three months after the PPP Government took office.