The Human Services and Social Security Ministry, in its efforts of reducing and bringing awareness about Trafficking in Persons (TIP), sees the need for more collaboration with the media.
Guyana has been identified as a source, origin, and destination for Trafficking in Persons and as such, the Ministry is seeking to work along with the media to bring awareness to the scourge which is known as modern-day slavery or human trafficking.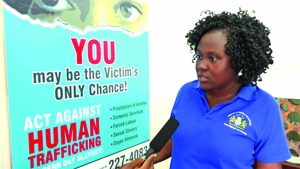 In light of this objective, a training session on Trafficking in Persons was facilitated by the Ministry on Saturday.
The programme focused on ways to effectively collaborate in reporting on TIP which can ultimately bring awareness.
Coordinator of the Ministry's Counter-Trafficking in Persons (C-TIP) Unit, Tanisha Williams-Corbin related that the Ministry and the media need to be on the same page when it comes to reporting on TIP.
"Some reporters/media houses are very insensitive when reporting on these issues; you have to remember that many of the victims' self-esteem is very low."
She agreed that the department has not been able to establish a working relationship with the media but the training also sought to establish ways to improve the relationship.
TIP, according to the Act, is " … the recruitment, transportation, transfer, harbouring or receipt of a person by means of threat or use of force or other means of coercion, or by abduction, fraud, deception, abuse of power or of a position of vulnerability, or by the giving or receiving of payments or benefits to achieve the consent of a person having control over another person, for the purpose of exploitation."
It, however, must be noted that there is a difference between human smuggling and TIP; the crimes are separate and distinct.
Human smuggling is defined as the procurement, in order to obtain directly or indirectly a financial or material benefit, of the illegal entry to a country in which the person is not a national or a permanent resident while TIP is a crime against an individual and the violation of that person's basic human rights.
Hence, TIP is a crime against an individual and human smuggling is a crime against the State.
According to Williams-Corbin, victims of TIP can be men, women, children or persons of the LGBTQ community. She expressed that TIP cuts across race, nationality, gender, age, and socio-economic background.
"Anyone can become a victim of Trafficking in Persons," she added while noting that it is the responsibility of all to assist in recognising the signs and report same to the Police.
Meanwhile, the Ministry in collaboration with several governmental and non-governmental organisations is working collaboratively to provide a number of services to survivors of TIP to ensure their full rehabilitation and reintegration into society.
To report instances of TIP, persons are urged to contact the authorities on telephone numbers 227-4083 (Spanish operators), 623-5030 and 624-0079.