– says it's a 'now or never' move to leverage this advantage
By Rupa Seenaraine
The journey to accessing new markets and capitalising on the vast opportunities in Guyana begins with a leap to invest in the country's prospering economy, President Irfaan Ali on Monday told investors from the visiting European Union (EU) Trade Mission.
The trade mission arrived in Guyana through the Global Gateway initiative – a mechanism to bridge investment gaps sustainably.
At the Marriott Hotel, President Irfaan Ali told the potential investors that they have the opportunity to be part of the most sustainable and resilient story of development that will evolve in 2030 and beyond.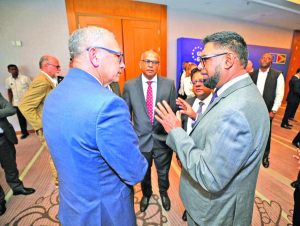 In the space between a booming economy and the need for development in key sectors, it is a 'now or never' move to leverage this advantage, as the country's unique position allows for it to become a leading hub in the Region.
"We are here to tell you in a convincing way that the door for our opportunities is open so that it can become your opportunities also. Do not believe that you need to do it alone. We have been growing our local private sector and they're becoming far more sophisticated," the Guyanese Head of State echoed.
Some 23 companies are visiting from 10 member states: Netherlands, Denmark, Germany, Norway, Sweden, Spain, France, Ireland, Finland and Austria. Among the entities are renowned brands Nokia and Siemens Energy.
Increasing trade
This partnership will not be starting from zero. From January 2017 to September 2023, total trade with the Europe Union stood at approximately US$11 billion. It has increased 'steadily' in the past five years, with an average annual growth of 20 per cent.
The President identified, "Trade grew by 778 per cent in 2022 over 2021 period. It is a movement from US $614 million to US$5.4 billion. The massive growth in 2022 is due to the considerable expansion in exports of petroleum."
Ali mentioned that with the driven leadership on food, energy and climate, there is a demand for investments in the building out of services in healthcare, education, biodiversity and pharmaceutical.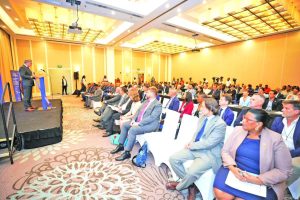 Expanding operations in Guyana will form an integration into the wider market by capitalising on existing trade relations which the country sports.
"This market that I speak of is not the Guyanese market. It is what Guyana offers you in a much wider market based on trade agreements that we have in those markets. What we are seeking to do is create the competitive advantages within Guyana so that you can relocate or expand your services here to better compete and gain access to those markets. At the end of the day, business viability and economic viability are two different things."
He pointed to Guyana's natural markets in Argentina, Canada, China, Cuba, United States, and the Caribbean which investors can capitalise on to make the businesses very competitive.
Reset
The President added that for some time, European investors had a narrow outlook on the Caribbean based on population and size of the economy. This engagement is set to reset their strategic thinking in order to forge ahead.
"You have the technology, the know-how, more connected culturally and we have a closer geographic space. But what was lacking was the narrow outward engagement by European investors because honestly, you viewed Caricom and Guyana from a very narrow lens."
He painted the picture of other investors scooping up these opportunities as he said, "The capability is world-renowned but imagine you have an investor coming from the Middle East here to build that capability when you would have had that opportunity. And they will come here to build that capability to supply a market in the Middle East, a market that we are going to integrate in our business model."
In engaging the investors, Ali underscored that Government is seeking out the best in technology, artificial intelligence, digitisation, healthcare, legislation, fiscal incentives; and then will work on preparing the population for the new Guyana.
Pooling resources
Meanwhile, EU Ambassador to Guyana, Rene Van Nes underscored that the group of companies had a total revenue of €400 billion in 2022 and employed a total of 500,000 persons worldwide.
These companies were selected for their contributions to the priority sectors of the EU Global Gateway strategy to connect Europe to the world. Such industries include renewable energy, digital economy services, green solutions for agriculture, transport, forest, manufacturing, recycling and waste management, environmental remedies, health, pharmaceuticals and others.
Ambassador Van Nes pointed out that these sectors are highly relevant for Guyana to achieve its ambitions, as a country and as a regional hub, to lead in energy security, food security and climate security.
"The Global Gateway stands for creating sustainable and trusted connections that work for people and the planet. It helps to tackle the most pressing global challenges, from fighting climate change, to improving health systems, and boosting competitiveness and security of global supply chains. It recognises the strength of the private sector as the engine of growth and puts sustainability at the centre. Financial, economic, social and environmental sustainability," the diplomatic added.
According to him, these are not just talks about economic opportunities but a transformative approach through European Union's Global Gateway initiative. It's a departure from the traditional development model of providing assistance, and leaning towards working together to create mutual benefits.
"By pooling resources and expertise, we aim for effectiveness that goes beyond what we could achieve alone. And of course, our approach is anchored in our shared values which are increasingly being challenged in the world today."
Between 2021 and 2027, the Global Gateway Invest Agenda has the ambition to mobilise up to €300 billion for sustainable and high-quality projects. This is the total value of the projects to leverage with export finance, credit guarantees, feasibility studies, and others.
Global Gateway
The Global Gateway initiative is an EU strategy to invest in infrastructure projects and establish economic partnerships through smart, clean, and secure linkages.
It seeks a transformational impact in the digital, climate and energy, transport, health, and education and research sectors. The focus is on smart investments in quality infrastructure, respecting the highest social and environmental standards, in line with the EU's interests and values: rule of law, human rights and international norms and standards.
Among the officials present at Monday's opening ceremony were Finance Minister, Dr Ashni Singh; Foreign Affairs and International Cooperation Minister, Hugh Todd; Agriculture Minister, Zulfikar Mustapha, Health Minister, Dr Frank Anthony, and Minister within the Public Works Ministry, Deodat Indar.
The visiting companies comprise: EDF Energy, Siemens Energy, Abloy Colombia, SDV, Bergen Engines, Lamor, Nokia, United Caribbean Contractors, The Talent Holding, Gcon4 Spain SL, Blue Water Shipping, Perez y Cia, Scania, Arts and Zorg, VAMED, Getinge, MG Rosan, Cities4forest, Global Paint Products, Lazard, Green Generation and Sheep Milk Ireland.