– Govt invests $5B to support farmers during dry season
Guyanese have been up in arms as prices for vegetables and fruits skyrocketed in local markets thus putting additional strain to their pockets in recent weeks.
It is a situation which can be blamed on the prolonged El Niño conditions currently facing Guyana but the Government is putting systems in place to cushion these burdens, President Irfaan Ali on Monday disclosed.
Speaking with media operatives on the sidelines of an event, the Guyanese leader expressed that due to the continuous dry weather conditions, yield and productivity has reduced.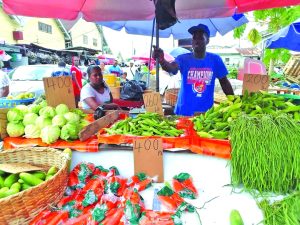 "In some areas, farms have burnt out because of the extreme heat and this has caused a drop in supply. Basic theory is that if there is a drop in supply and demand does not decrease, then price increases. So, that is primarily the main issue that we have here," the President noted.
The dry season is expected to last until early 2024; a prediction indicates that the second crop will also be affected.
Given the situation, Government intervened to provide $5 billion in support recently to assist both farmers and the Agriculture Ministry. This includes assistance with fertilisers and facilitating farmers' markets countrywide where the prices remain reasonable.
Despite this, there is the still the challenge of harsh climatic conditions – an unpreventable variable – which is destroying crops.
"We are working on supporting the farmers so that their input costs will come down. But they are faced with the challenge that even with reducing input costs, the climatic condition is affecting severely their productivity, which is yield and also destroying the crop completely. So, there's a major problem with supply, misuse or whether the price is likely to come down. I think that's the support," Ali underlined.
Asked when these prices will return to normalcy, the President noted that external variables will determine such.
"There are some things that are called external variables that you don't have control on. So, every country is faced with internal variables that you can control and external variables that you cannot control…You have climatic conditions that none of us can control. We can't turn a switch on and say rain will come tomorrow."
What Government will do, he added, is try to minimise the impact of external shocks and variables. It is a matter of ensuring that food is still on the shelves and available for Guyanese.
President Ali told the media, "If you look at our inflation rate and the numbers, you will see that the policies and the type of measures that we've put in place has minimised that impact substantially. We would love it to come down tomorrow…But what the Government has to do is to implement measures that minimise the impact and we have done that."
"That is why you see the low inflation rate. That is why you still see food available on the market. Whilst we are working on the supply and demand and the pricing, there are markets because of the climatic conditions that they're working primarily on getting food on the shelves."
On social media, there has been an outcry in relation to the hiked prices. In one case, someone lamented that a chunk of pumpkin carries the price tag of $1000.
The ongoing El Niño phase is expected to continue throughout and beyond the November 2023 to January 2024 period. As a consequence, rainfall amounts are expected to be less than the historical average. Further, southern sections of Regions Six and Eight and all of Region Nine will continue to experience dry conditions.
As a result of the projected drier-than-usual conditions, water supply in conservancies, reservoirs, and inland rivers across Regions Nine, Eight and southern Region Six can be expected to remain low, while supply levels in Regions One, Two, Three, Four, Five, 10 and northern Region Six would be increased, but slower than usual.