…Reg 5 administration foots bill despite vehicles not being on books
Under the former A Partnership for National Unity/Alliance For Change (APNU/AFC) Government, a situation existed where a number of vehicles that were not on the Region Five (Upper Demerara-Berbice) register, received thousands of litres of fuel free of charge on multiple occasions.
This is contained in the Auditor General 2019 report, which was discussed at the level of the Public Accounts Committee (PAC) on Monday. Region Five Regional Executive Officer (REO) Genevieve Blackman was questioned by the committee on this situation.
It was revealed in the report that there were 18 instances where 1195 litres of fuel were purchased for a vehicle, with licence plate PTT 1184, amounting to $253,913 in 2019. The year before, there were 41 instances of fuel being purchased for 26 vehicles that weren't in the region's inventory, totalling almost $500,000.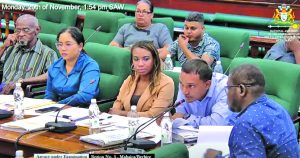 The REO explained that PTT 1184 was a vehicle that belonged to the Hugo Chavez Centre for Rehabilitation and Reintegration. According to her, she does not have documentation showing that the vehicle had permission to receive gasoline on the taxpayers' bill.
"Based on the research, the RDC would have given gas to a bus belonging to the Hugo Chavez (Rehabilitation Centre) to assist them… it's another Government agency in the region, controlled by the Ministry of Human Services. But there is no documentation anywhere," the REO explained.
Questioned how the Centre gets fuel now, Blackman explained that they no longer get fuel from the region. Rather, such fuel is most likely funded from their own budget. Asked for an update on the 26 vehicles from 2018 that also benefitted from the fuel, Blackman committed to laying over information, including the numbers and origins of the 26 vehicles, at a subsequent sitting.
Meanwhile, Regional Engineer Dhanpaul Sukha explained that the fuel is purchased through a purchase order at the beginning of the month under a specific programme. At the end of the month, a reconciliation is done between the region and the service station, which would provide them with a list of the vehicles that uplifted fuel for the month.
"The system at the region is whereby a purchase order is raised by programme. So, under the different programmes, for a particular month a purchase order is raised for a quantity of fuel, maybe $1 million. For the different programmes."
"So, what would happen, the individual vehicles would go during the course of the month to the different programme heads, therefore the Deputy Regional Executive Officer or the Regional Executive Officer, for approval. And following that, go to the service station, receive the fuel and that amount is deducted from the total amount that was raised at the beginning of the month."
Asked by Mahipaul how the gas station verifies that a vehicle belongs to the region, the engineer explained that the vehicle goes with an Internal Service Request (ISR) to the service station which would contain the requisite details. However, he also said that there are times when the car vehicle number can get mixed up.
"They write a figure wrong, a letter wrong. So, it doesn't always match up. And that is where the audit office would have picked up there were vehicles, the numbers didn't match up. Not coinciding with vehicles on our inventory," he said.
The Audit Office was eventually able to produce a list of the 26 vehicles that received the fuel, but when the vehicle numbers were called out, the regional administration could not account for them. Further, PAC member Ganesh Mahipaul expressed concern that the 2019 practice of requisitioning for fuel, was still in practice. (G-3)