A Corentyne construction worker was on Sunday evening stabbed to death during an argument with a bartender at a drinking spot at John's Village, Corentyne, Berbice.
Dead is 29-year-old Ramanand Mingo called "Rambo" of Lot 247 Clifton, Corentyne.
Based on reports received, the now dead man had left home to play a game of cricket after which is it customary for the players to take a few drinks.
However, while imbibing with friends at a supermarket along John's Public Road, his brother went to collect him with the intention of taking him home but on their way, he insisted on stopping at a bar.
According to the Police, Mingo went into the shop while his brother stood outside. Soon after, the brother realised that an argument had broken with his brother and the bartender, who was later identified as "Andrew".
As such, the brother went into the shop and attempted to separate them, but the suspect whipped out a knife from his pants waist and dealt one blow to Mingo's left side chest.
Mingo reportedly collapsed but was picked up by his brother and taken to the Port Mourant Hospital, where he was pronounced dead on arrival.
The dead man's 27-year-old brother, Dainand, recounted that they were on their way home when his now dead brother said he wanted something to drink.
As a result, they stopped at Amus Sports Bar, which is popularly called "Metalist Shop".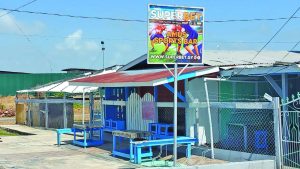 "I tell him that the shop closed but he tell me that it still open, so I give him money to buy something to drink and when he go in he and the boy at the counter start talking and they start to argue. So, I decide to go inside and bring my brother out of the shop and the counter boy pull out a knife and jook him in his stomach," the grieving brother recalled.
Dainand believes his elder brother died at the scene even though he rushed with him to the Port Mourant Hospital.
He explained that the shop is one that they frequently visit on Sundays but his brother did not have a chance to purchase something to drink before he was mortally injured.
The dead man's sister, Vishwattie Mingo, referred to her brother as being a very nice person to people in the community. "I don't know how come this happened," she said.
Meanwhile, an autopsy performed on Mingo's body by Government Pathologist Dr Vivekanand Bridgemohan gave the cause of death as a result of shock and haemorrhage due to a stab wound to the heart.
Mingo leaves to mourn his mother and his two siblings. The Police are on the hunt for the suspect who fled the scene after the stabbing incident.