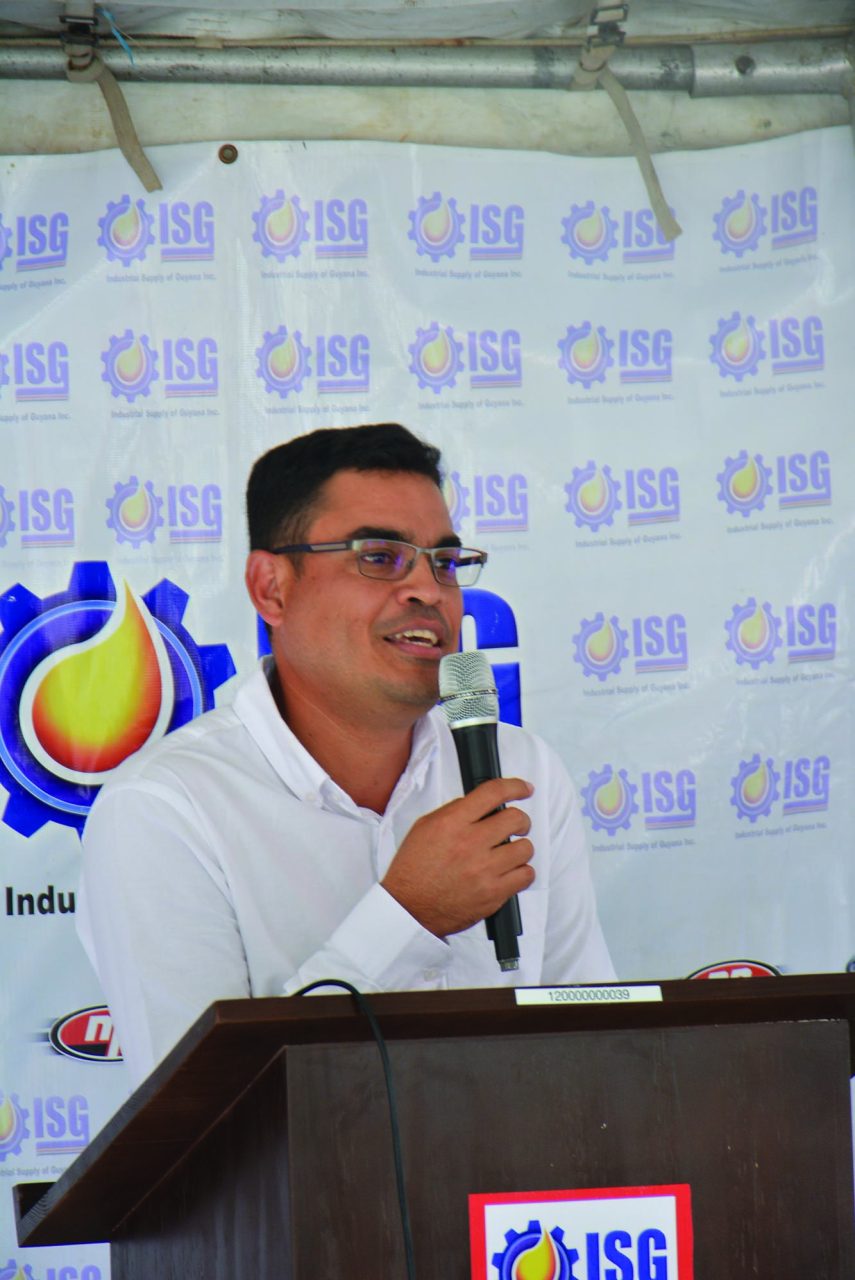 After recently introducing its newest line of motorcycle lubricant, Industrial Supply of Guyana Incorporated (ISG) in partnership with National Petroleum is giving back to customers in the form of a promotion from which persons can win one of six Honda 110 motorcycles. As such, the company kick-started the draw, in which the first motorcycle was won for the Oil N' Go promotion on Tuesday at its Providence, East Bank Demerara location.
The promotion had commenced in March and will conclude on September 30, 2019, prior to which customers were enlightened and advised to be a part of by simply purchasing the Ultra Motorcycle Oil which is solely distributed by ISG.
In delivering highlights of the promotion, ISG's Operations Manager Natasha Ali noted that the promotion gives both end users and re-sellers the opportunity to win prizes from the company.
"This promotion enables both out end-user and resellers to win great prizes from ISG….we thought it fit to give back to our end-users, hence six motorcycles are up for grabs from now until September 30; end-users all they have to do is shop any ultra-lubricant," she explained.
Meanwhile, Chief Executive Officer (CEO) of Machinery Corporation of Guyana Limited (MACORP), Guillermo Escarraga, added that the over-all act of giving back demonstrates that his subsidiary is meeting the needs of customers and in return they are showing support. He further exclaimed that his company is the first to be hosting massive promotions across Guyana as he expressed satisfaction for the event and encouraged continuous customer support.
"It's a special occasion because we are going to give away the first of six motor bikes and we're really happy this is taking place, this is the first time in my memory that I see a company like ours and proudly in the entire Guyana doing such great promotions….we look forward to having the continued support from our customers in this promotion," Escarraga underscored.
In addition, the winner of the first Honda 110 motorcycle in the promotion was identified as A Adams of lot 46 Evans Street, Georgetown.