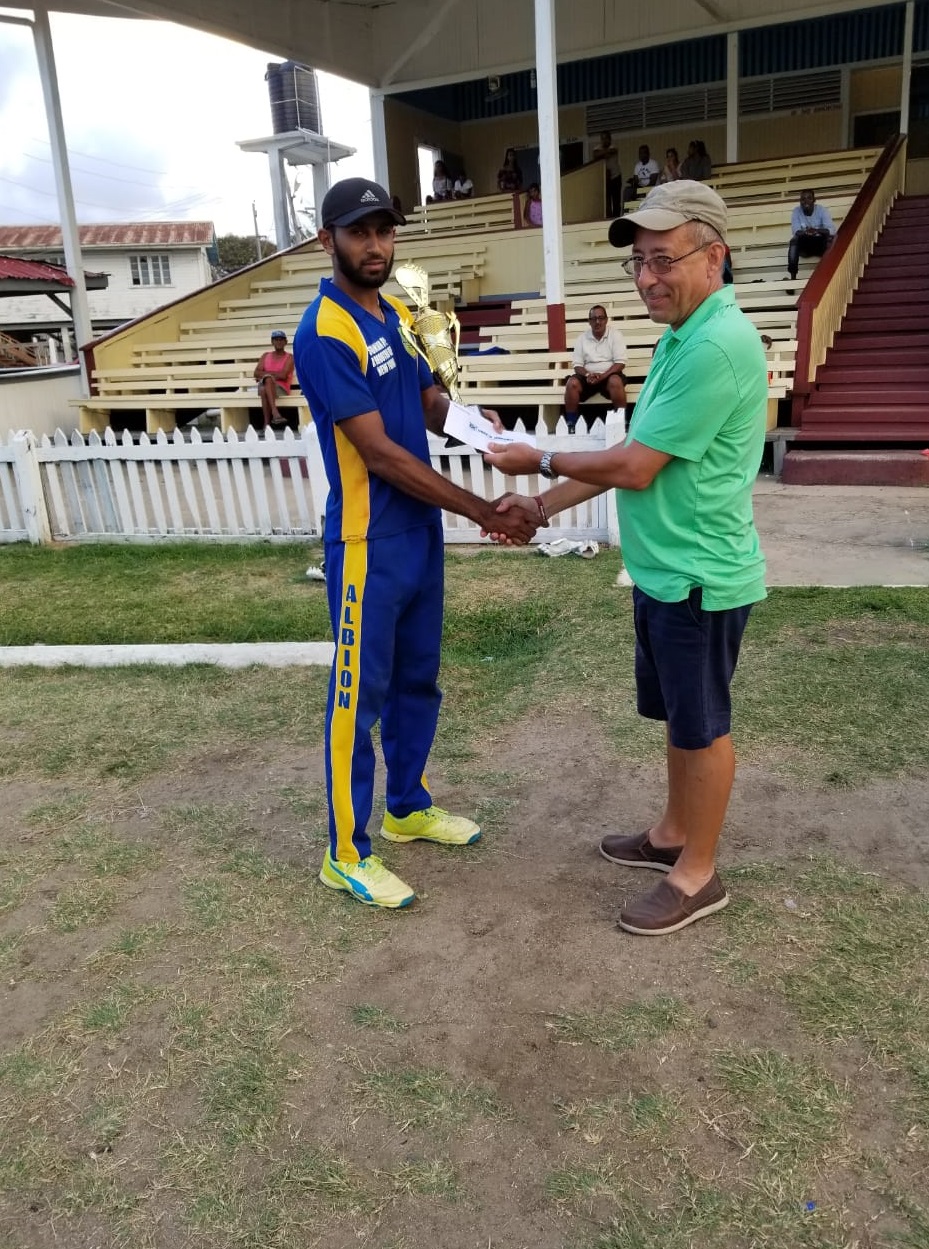 The caring and humane side of Berbice cricket was on full display on Sunday last when arch-rivals Rose Hall Town Gizmos & Gadgets First Division Team and the Albion Community Centre Cricket Club joined hands to donate $150,000 to the Beacon Foundation's Cancer Programme.
The two top teams in Berbice were part of a special One-Day Tournament organised by the vibrant Berbice Cricket Board (BCB) in conjunction with Beacon Foundation.
The main objective was to raise funds to enable Beacon Foundation to assist cancer patients who have reached Stage Four.
Rose Hall Town Gizmos & Gadgets defeated Albion Community Centre Cricket Club by five wickets to lift the $100,000 first prize while Albion took home the runners-up package of $50,000. The management of both Clubs, along with their players, agreed before the match to donate any prize monies won back to the organisers.
BCB President Hilbert Foster praised the kindness of both Clubs and stated that under his leadership, he wanted the Berbice Board to be a beacon of hope to the sick, lonely and less fortunate. The Board, he stated, was fulfilling all of its mandate on the cricket field and was willing to work along with social and charitable organisations to make a positive difference.
Cancer, the BCB President stated, does not look at your status in life or your race, religion or creed. Cancer is one of the worst illnesses in the world, and he lauded the outstanding work of the Beacon Foundation, which cares for close to 30 patients in both Regions Five (Mahaica-Berbice) and Six (East Berbice-Corentyne) .
A clearly disgusted Foster blasted the national cricketing administration, who stopped six contracted players from playing in a charity match to assist those in need.
The donation from the Rose Hall Town Gizmos & Gadgets Team was the latest contribution from Guyana's leading youth and sports organisation to charity causes in 2019.
Assistant Secretary Simon Naidu noted that the Club, in the first four months of the year, has assisted over 150 individuals; churches; Non-Governmental Organisations (NGOs) and schools with over $3 million in cash and kind.
Among the popular players representing Albion Community Centre were Devendra Bishoo, Veerasammy Permaul, Gudakesh Motie, Anthony Bramble, and Kevin Umroa while Clinton Pestano, Kevin Sinclair, Kevlon Anderson, Junior Sinclair, Jonathan Rampersaud, and Shemaine Campbelle are members of the Rose Hall Town Youth & Sports Club, MS. The Club also purchased 50 tickets for the match.
Beacon Foundation Chairperson Patrick De Groot expressed gratitude to the Board for its cooperation in hosting the tournament and explained the outstanding work of the organisation.