Berbice River Bridge
…"It is criminal. This is an act of desperation"
The move to increase tolls for the Berbice River Bridge has been dubbed a political gimmick by Opposition Leader Bharrat Jagdeo, which was orchestrated by the coalition Government.
Addressing his weekly press conference on Wednesday at his Church Street, Georgetown office, the Opposition Leader gave several key explanations for his argument.
According to him, the toll increases seemed to have come as a result of collusion between Government and the Berbice Bridge Company Inc (BBCI).
He is of the firm view that this would most likely lead to the Government acting as the "knight in shining armour" who steps in and saves the day by blocking the increases.
Jagdeo said the Chairman of BBCI, Dr Surendra Persaud, who is also linked to the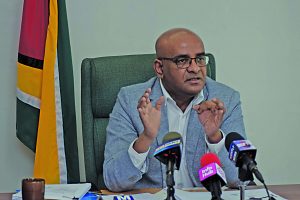 Alliance For Change (AFC), instigated the decision made by the Board.
"The Berbice Bridge Act in Section 3 under Toll Order states that the maximum amount of toll to be charged during concession periods and any increase requires the Minister's intervention and the Minister implements it through a toll order," he explained.
He went on to state that the toll order specifies the rates and must be signed by the Minister. It therefore means that an increase cannot take effect without the Government's intervention.
"It's easy for anyone who wants to get to the bottom of this matter to do so. This is purely a campaign gimmick. We know that for sure. It is all a strategy," Jagdeo argued.
Referring to Dr Persaud, Jagdeo claimed that Government may have succeeded in getting him to announce an increase but to make it "so shocking that they will once again get a campaign issue."
"It is criminal. This is an act of desperation on the part of the coalition Government… they can't campaign on anything else so they are whipping up sentiments," the Opposition Leader claimed.
Jagdeo pointed to several reasons why the Government had to resort to this means in order to garner support, mainly the declining economy in the county.
He said health care has not improved in Berbice, the Ophthalmology Centre is inoperable and thousands were left without jobs, no major infrastructural work ongoing in the region.
"So, what do they do? Well they have the toll majorly increased in order for them to act like they care for the people when they decrease it," Jagdeo stated.
Transformational
Meanwhile, in shutting down suggestions that the construction of the bridge was a bad deal, Jagdeo, who also serves at the General Secretary of the People's Progressive Party (PPP), said it is and remains a proud decision he has made while serving as President of Guyana.
"I'm proud of the fact that I passed this law and signed an agreement and built the bridge without burdening taxpayers. The toll was similar to what people were paying to cross on the ferry."
"This bridge has been transformational for Berbice and I am being blamed. But I want to say that in my tenure, the airport was started, and the stadium was built in my tenure and the swimming pool, Convention Centre, many tactical institutions, Linden Hospital and water treatment plant, the Skeldon factory, the Leonora Track… contrast that with what they are doing, practically nothing."
He reminded that the then People's National Congress (PNC) Government had spoken about the idea of building that bridge but nothing was done until the PPP took up office.
Meanwhile, the Opposition Leader said the financial model which is an annex to the bridge's contract, guides how the bridge is to be operated.
He noted that the financial projection shows a constant decrease, with the exception of two years, of tolls until 2026 when the bridge is expected to be handed over to the State.
Currently, the revenue of the Berbice River Bridge is reportedly doing better than that in the financial model, as such; Jagdeo further questioned the shocking increase.
"All Government has to do is not sign the toll order. If they collude with the company to increase the toll, we are committed to decreasing rates back to same level if we regain power," he added.
Furthermore, the Opposition Leader urged the Government to release documents to the public regarding to operations of the bridge.
"We urge the Minister to not sign toll order, if they persist in this which we believe is a ploy, PPP will reverse this. We believe that this is a part of a gimmick in the campaign season," he said.
It was announced on Tuesday that to cross the bridge, cars and minibuses will now have to pay $8040; small trucks, pickups and four-wheel drive vehicles $14,600; medium trucks $27,720; large trucks $49,600; boats $401,040; and freight $1680.
The increases are expected to take effect on November 12, 2018, the same day as Local Government Elections. (Samuel Sukhnandan)