Máximo's masterplan…
By Jemima Holmes
Since the beginning of his tenure as Head Coach of the Guyana senior men's national football team, the Golden Jaguars, Márcio Máximo has taken every opportunity to emphasise the importance of having a balanced national team in order to continuously develop local football.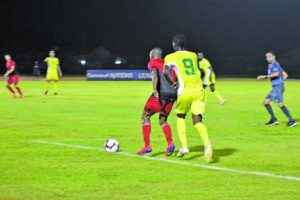 Since the beginning of Guyana's CONCACAF Nations League campaign, Máximo's mantra has been the inclusion of more local players, which will in turn improve the level of football that is being played in Guyana. As such, the Coach has balanced his 20-member teams, utilising an even number of local and international players.
At first, Guyana got past Aruba easily in a 1-0 affair; however, when they met Jamaica and Antigua and Barbuda, the Golden Jaguars suffered 4-0 and 2-1 defeats respectively. As a result of this, many questions were asked about when the Head Coach's master plan would come to fruition.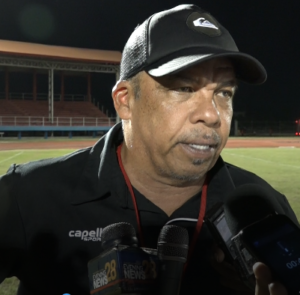 Guyana sought their revenge against Antigua and Barbuda on Monday evening and for the first time, many got to witness what Coach Máximo has been envisioning for months – a winning balance.
Following the exhilarating 90 minutes, Coach Máximo was ecstatic about the victory, highlighting that his objective to balance the team with local and international players has paid off.
"Like I told before, you should invest in the mix of the international players and the local players; I think it is a very good combination: the team is one unit. They know about responsibilities and objectives and how much goals you should get and I'm very happy, because the guys prove that we have a good team. We just need time and patience to improve this team," he stated.
The Coach went on to reveal his intentions to continue working with this formula, as he believes it will lead to a brighter football fraternity in Guyana.
"You don't really have development without giving chances for local players too. This combination for me is a secret for Guyana to have a better team and a good squad. We just started in our job, but if we continue in this way, greater things are coming for Guyana," he declared.
How it went down
After their away game against the same opponents failed to go as planned, the Golden Jaguars used their home advantage to punish the "Benna Boys' from Antigua and Barbuda on Monday evening.
The local boys were on show at the Leonora Track and Field Facility, trouncing Antigua and Barbuda 5-1 in their fourth CONCACAF Nations League game.
After being out of the national side for some months, Trayon Bobb was included in the team for their back-to-back clashes with Antigua and Barbuda over the weekend. While he failed to produce in the first encounter, Bobb decided that the result would not be the same at home.
With family and friends cheering him on, Bobb opened the scoring early when he beat the goalkeeper in the first minute of play.
Once again, the quick forward was able to play past Antigua's goalie Murphy Parker in the 28th minute for Guyana's second goal.
The remainder of the half went quietly as Antigua worked overtime on their defence.
Guyana's goalkeeper Akel Clarke's lone mistake came in the 47th as Nathaniel Jarvis outfoxed him for Antigua's consolation goal.
While Antigua eagerly tried to level the score, the Golden Jaguars had other plans. Coming in for Kelsey Benjamin in the second half was another local talent, Sheldon Holder, who had an immediate impact on the game. With a kick coming from the left corner, Holder gently headed it into the goal for Guyana's third in the 64th.
Kadell Daniel added another to the tally in the 77th minute when the collection of his free kick was fumbled by Antigua's goalkeeper. Sheldon Holder could not be kept out of the game; as the forward was going for his second goal, he instead decided to back heel it to an attentive Pernell Shultz, who completed the goal with ease for Guyana's fifth in the 90+2.
Bobb's brilliance
After the celebrations, Bobb noted that he was proud of himself and the team for sticking to their game plan and emerging with a win.
"It's a very wonderful feeling, helping Guyana with two goals. And also playing very hard, each and every one of us were hungry even from the start. And that's the plan we had, to come out and play hard and come out victorious and we did that," Bobb said.
Furthermore, when asked about his thoughts in relation to being recalled to the national outfit and succeeding, Bobb noted that it was motivating, especially going forward in his career.
"I feel very motivated. I always like working hard and trying to be better at all times," he stated.
Guyana will play their next Nations League match against Aruba on November 14, 2019.