2018-2019 CWI Regional 4- Day Tournament…
By Brandon Corlette
The eventful day belonged to the bowlers as 20 wickets collapsed on the opening day of the sixth-round clash between Guyana Jaguars and Trinidad and Tobago Red Force. Red Force were bowled out for 108 while Jaguars were bundled out for 150 on an eventful opening day. Keemo Paul was the star of the day with three wickets and a 36-ball 66.
Under clear skies and beautiful playing conditions at the Queen's Park Oval, Trinidad and Tobago, Guyana Jaguars Captain Leon Johnson won the toss and opted to field first. The leading fast bowler in the tournament, Romario Shepherd and Keemo Paul shared the new ball for the Jaguars. On a pitch that looks well-prepared, Trinidad and Tobago Red Force new-look openers, Jeremy Solozano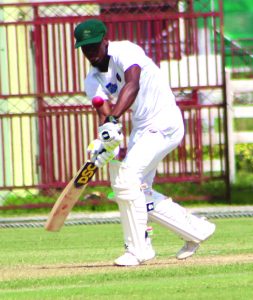 and home boy Joshua Da Silva, went out to bat.
It was an eventful start to the match, when Red Force's only century maker this season, Solozano opened the scoring account with a boundary. The Jaguars opening bowlers moved the ball in the air, bowling with extreme control. Paul was awarded his first wicket in his opening over; he removed the Red Force and Queen's Park opening batsman, 19-year-old Joshua Da Silva.
Da Silva was out caught behind by Bramble edging a moving Paul delivery with the score on 6-1. Shepherd continued to steam in from the other end bowling from around the wicket, he struck Solozano (08) in front trapping the left-hander leg-before. Solozano was leaving a ball that was coming in sharply; he departed with the score on 16-2 after 6.2 overs.
With experienced Kyle Hope absent from the Red Force team, Tion Webster came in at number three and Captain Denesh Ramdin came at number four. Ramdin was bowled all ends up for a five-ball duck when he played forward to a deadly Shepherd delivery, missing the ball completely. Red Force were in all sorts of trouble with Ramdin departing with the score on 22-3 in 8.1 overs.
The right-handed Webster stroked 19 and he looked composed, but the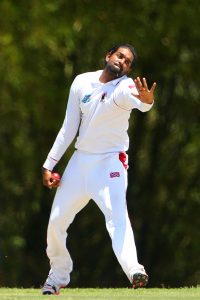 introduction of the first change bowler, Raymon Reifer, led to his demise. Reifer was on target when Webster looked to play a full-straight ball into the leg-side and was given out leg before. Red Force slumped to 46-4 after the drinks break. The batsmen continued to struggle when the fiery fast bowler Clinton Pestano struck Jason Mohammed in front. After a loud appeal by Pestano, the female umpire, Jacqueline Williams raised her finger and Mohammed fell for 17, including four boundaries.
Half of the side was out, with the score on 46-5, Red Force's second batsman with a half-century this season, Yanic Cariah stuck around with Imran Khan. After the pair added 23 runs together, in what looked like a "mini-resurgence", Khan was the sixth Red Force wicket to fall. The right handed Khan was out for 17 when he left a Paul delivery that swung sharply and clipped the bails off the stumps.
Red Force ended the morning session on 69-6 with Cariah remaining unbeaten on four and Odean Smith unbeaten on zero. The morning session belonged to the Jaguars, and Red Force were on the back foot. With two spinners in the Jaguars XI, their Captain rotated the fast bowlers.
Paul continued to attack the batsmen with two slips and a gully starting the afternoon session, as opposed to the three slips and a gully in the morning session. Paul got his third wicket when he removed Smith caught behind with the score on 79-7. Smith fell for 8 attempting to swing for the hills and ended up playing away from his body, with the ball taking the outside edge.
Pestano, bowling with tied hair, bowled a short delivery and Cariah was out caught behind attempting to pull a delivery, but he gloved one to Anthony Bramble. The Jaguars wicket-keeper continued his excellent tournament when he dived down the leg-side to complete a spectacular catch.
Red Force were 87-8 after 33 overs; 14 balls later, the ninth wicket bit the dust when Anderson Phillip skied one and was eventually caught by Veerasammy Permaul off the bowling of Reifer. Permaul and Paul almost caused a serious collision but Phillip departed for 9 with the score on 100-9 after 35.2 overs. The final wicket fell when Pestano bowled a well-disguised slower ball to remove Ravi Rampaul for five.
Red Force ended on 108 in 38.4 overs, with all their batsmen falling to make 20 runs. Keemo Paul was the best bowler finishing with figures of 3-26 in 10 overs, including two maidens. Pestano ended with 3-37 while Shepherd took his tally this season to 21 wickets, ending with 2-23. Reifer's 2-20 completed the all-seam bowling demolition, as Permaul and Gudakesh Motie did not get a ball.
The confident Jaguars openers in Chandrapaul Hemraj and Tagenarine Chanderpaul went out to bat under sunny conditions. Hemraj was at his best, looking to play his shots, after hitting three fours and one six that he pulled Anderson Phillip – he was out for 22. Hemraj's shot-filled innings came to an end when he was trapped in front by Ravi Rampaul with the score on 31-1.
Jaguars entered tea on 36-1 with Johnson yet to score and Chanderpaul on 13. Two balls into the final session, Rampaul struck once more; he caught Chanderpaul on the crease, playing in two minds. Entering this match as the Jaguars leading run scorer, Chanderpaul was dismissed for a 24-ball 13 that included two boundaries.
The returning Vishaul Singh was the next batsman that departed in unusual fashion with the score on 40-3. Singh was displeased when he was run out after Phillip got his right index finger on the ball and hit the stumps finding Singh backing up too much. After the delay, Singh eventually departed for four runs, including a boundary.
Red Force sneaked back into the contest when Johnson fell for a 14-ball three, after taking 11 balls to come off the mark. Johnson was out caught by Mohammed when a short Phillip ball rushed onto him and he stuck him up, playing a loose pull-shot. Jaguars were 44-4 after 14 overs and things got darker for the Guyanese. Bramble faced three balls and was out for a duck when he left alone an in-swinger and was trapped in front, with the score on 44-5.
At Bramble's dismissal, the ball seems to have been missing the stumps owing to the extra bounce, but Umpire Jacqueline Williams adjudged the wicket-keeper out. Shepherd partnered Reifer and the duo added 33 runs together when Reifer was out for 16 from 30 balls with two boundaries. He was out caught behind by Ramdin off the bowling of Jamaican speedster Odean Smith.
With the score at 76-6, the attacking Shepherd was partnered by Paul, and the all-rounders started the rebuilding process. The 38-run partnership was broken when Shepherd was trapped in front from leg-spinner Imran Khan for 23 from 31 balls. At 114-7 that soon became 114-8. Pestano was out first ball when an Imran Khan googly shattered his stumps. Khan found himself on a hat trick after Pestano's golden duck, but the hat-trick ball was a wide delivery that was left alone by Permaul.
It was all happening at the Queen's Park Oval; Permaul edged one behind and was out for one, giving Smith his second wicket of the innings. With nine wickets down, Paul shifted gears, after being dropped in second slip by Da Silva and having survived a caught-behind chance, he rode his luck. Paul hit the bowlers for boundaries at will, bringing up his half-century with three consecutive sixes off Khan.
The Jaguars innings came to an end when Khan removed Motie for a duck; Jaguars acquired a lead of 42 runs. Paul was left unbeaten with the best innings of the match – 66 from 36 balls, including 10 fours and three sixes. Khan finished with 3-22 while Rampaul, Phillip and Smith had two wickets each.
The Red Force opening batsmen made their way out to bat in the testing afternoon period as the Jaguars bowled eight overs. Red Force ended on 13-0 with Solozano on eight and Da Silva on four. The second day's play will commence from 10:00h local time at the Queen's Park Oval.