– Johnson, Chanderpaul stands tall in unbroken 57-run partnership
By Brandon Corlette
On the verge of achieving greatness, four- time defending champions, Guyana Jaguars are in a familiar strong position ending day 2 on 69-2. Watched in front of a fair size crowd at the National Stadium Providence day two of the day/night pink ball match saw 251 runs scored between the teams and 10 wickets tumbled from the respective teams.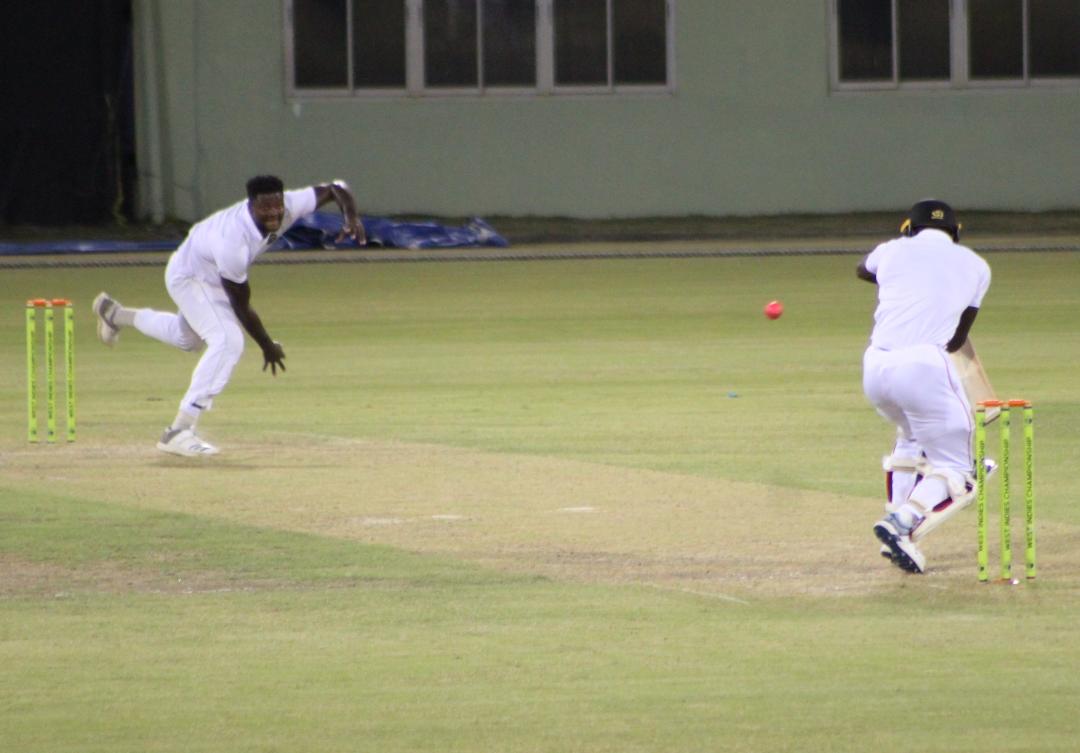 Red Fore were bowled out for 206 in their second innings; Romario Shepherd and Raymon Reifer shared five wickets between themselves. Jaguars required 162 runs to for a victory in their tenth and final round. Jaguars ended day two on 69-2 in 20 overs with Captain Leon Johnson on 37 from 59 balls, including eight timely fours and Tagenarine Chanderpaul on 22 from 55 balls.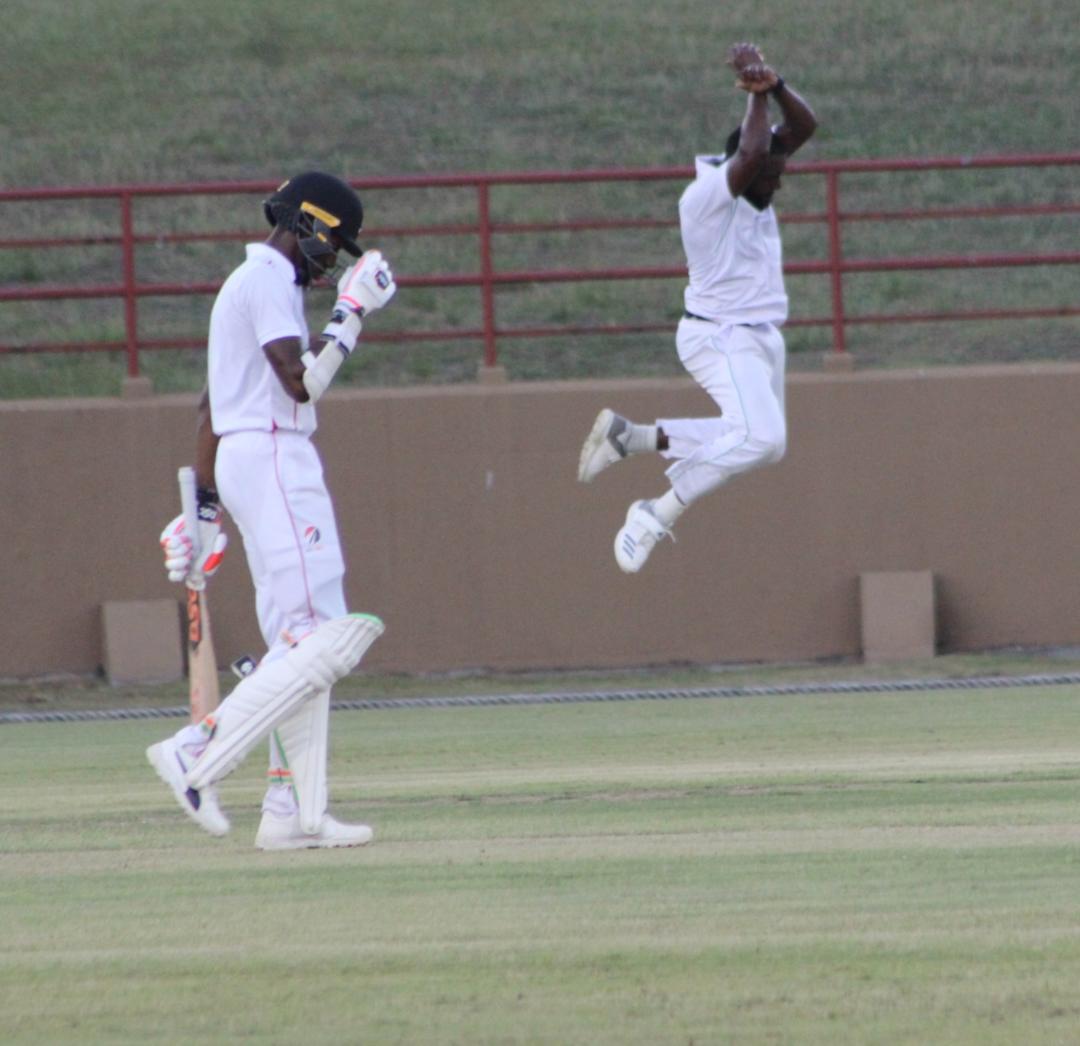 After an absorbing day one at the National Stadium Providence, Trinidad and Tobago Red Force resumed the day on 17-2, with Joshua Da Silva and Denish Ramdin resuming. Red Force captain, Ramdin hit three fours in his 34-ball innings but was out bowled by Reifer for 23. It was the first wicket of day 2; Reifer got a delivery to nipped back into Ramdin who played back and watch his stumps shattered.
At 43-3, Jason Mohammed joined forces with Da Silva and the duo looked to set a respectable target for Jaguars. The introduction of Veerasammy Permaul led to the demise of Da Silva at 71-4; the opener added 15 runs to his overnight score when he perished, out trapped in front for 25 from 87 balls, hitting four boundaries.
The Red Force team reached the first interval taken at 16:00h at 81-4 in 37 overs, enjoying a lead of 36 at that stage. Jason Mohammed stood tall on 19 from 51 and Khary Pierre was unbeaten on one. Eight overs into the second session of day 2, Mohammed's fighting innings of 27 from 82 balls concluded when he slashed at one outside off and was safely taken at second slip by Vishaul Singh.
Christopher Barnwell reaped success when he dismissed Mohammed with the score on 97-4. Eleven runs later, Imran Khan was undone by some brilliance by Tagenarine Chanderpaul and Anthony Bramble. Jaguars got their sixth wicket via the run out route, with Chanderpaul throwing one from the boundary and Bramble held his composure to pull off a Dhoni-like run-out, hitting the stumps from behind.
Pierre, known for his left-arm spin bowling, has proved effective with bat in hand this season scoring a century in last round's encounter against Windward Islands. He was partnered by the explosive Odean Smith who smoked Permaul for three sixes in his run-a-ball 21. He was out dismissed hooking a Romario Shepherd delivery and was out at 140-7 when Sherfane Rutherford completed a smart catch at long leg.
After the 32-run partnership between Pierre and Smith was broken, Daniel St Clair and Pierre took the score to 156-8, when he was out caught by Bramble, attempting to hook a delivery way above the shoulder, off the bowling of Reifer for a composed 40 from 84 balls, hitting three fours and one six.
The big Berbician, Romario Shepherd continued to impress; he trapped Bryan Charles leg before at 172-9. Red Force batsmen in Daniel St Clair and Anderson Phillip saw their team to the dinner interval taken at 19:00h with the score on 204-9 in 74 overs. St Clair was unbeaten on 30 and Phillip was not out on 20, with the visitors enjoying a lead of 159.
With 24 overs remaining, the final session got underway, it took eight balls for Jaguars to get the final Red Force wicket. It was Permaul who wrapped up the innings on 206 all out when he trapped Anderson Phillip in front for 21 from 43 balls. Permaul broke the frustrating 34-run last wicket partnership as he finished his season with 42 wickets.
Romario Shepherd who finished his season with 37 wickets, ended the second innings with 3-52 from 17 overs, following up his 5-24 in the first innings. New-ball partner, Reifer had 2-43 in 16 overs; Permaul grabbed 2-49 while Rutherford and Barnwell had one wicket each.
Number nine batsman, Daniel St Clair top scored with an unbeaten 31 from 58 balls, with Red Force final four batters scoring 81 runs combined, in contrast to the top four's 55 runs combined. Jaguars required 162 runs to complete what may be a monumental victory.
For the final time this season, Tagenarine Chanderpaul and Chandrapaul Hemraj accompanied each other at the crease with 20 overs remaining. On a slow pitch that requires cautious batting, Hemraj went for a booming drive but played on an Anderson Phillip ball onto his middle stumps. The left-handed sighed off his season with a duck as he continued his failures, when Jaguars were 3-1 in the third over.
Vishaul Singh opened his account with a slash through backward point for four, off Phillip. Chanderpaul then pounced one into the covers for four off St Clair to set a positive tone. It soon became 12-2 when Singh got a leading edge and was out caught for five at backward point off the bowling of left arm paceman St Clair.
It was redemption time for Leon Johnson with bat in hand, to steer his team past a possible collapse, he ensured no further hiccups for Jaguars at stumps. A match that is likely to finish today, the first ball will be bowled from 14:00h local time.
SCOREBOARD
Red Force 1st Innings 120 all out
Jaguars 1st Innings 165 all out
Red Force 2nd Innings 206 all out
J Solozano c Bramble b Shepherd 0
J Da Silva lbw Permaul 25
T Webster lbw Rutherford 7
D Ramdin b Reifer 23
J Mohammed c Singh b Barnwell 27
K Pierre c Bramble b Reifer 30
I Khan run out Chanderpaul 4
O Smith c Rutherford b Shepherd 21
D St Clair not out 31
B Charles lbw Shepherd 8
A Phillip lbw Permaul 21
Extras 9
Total 206 all out (75.2 overs)
FOW
1 – 0(Jeremy Solozano, 0.1 Ov),
2 – 17(Tion Webster, 7.4 Ov),
3 – 43(Denesh Ramdin, 19.1 Ov),
4 – 71(Joshua Da Silva, 28.6 Ov),
5 – 97(Jason Mohammed, 45.4 Ov),
6 – 108(Imran Khan, 49.6 Ov),
7 – 140(Odean Smith, 55.2 Ov),
8 – 156 (Khary Pierre, 58.5 Ov),
9 – 172(Bryan Charles, 61.3 Ov),
10 – 206(Anderson Phillip, 75.2 Ov)
Bowling
R Shepherd 17-1-52-3
R Reifer 16-5-43-2
S Rutherford 8-1-20-1
C Barnwell 13-3-19-1
V Permaul 14.2-2-49-2
R Lewis 7-2-17-0
Guyana Jaguars 2nd Innings 69-2
T Chanderpaul not out 22
C Hemraj b Phillip 0
V Singh c Webster b St Clair 5
L Johnson not out 37
Extras 5
FOW
1 – 3(Chandrapaul Hemraj, 2.1 Ov),
2 – 12(Vishaul Singh, 5.1 Ov)
Bowling
A Phillip 6-1-15-1
D St Clair 5-1-21-1
O Smith 4-1-13-0
B Charles 4-2-13-0
I Khan 1-0-5-0