After the dust was settled at the Queens College Auditorium, it was Marino Jeffrey and Tiniesha Toney who powered their way to top honours in the Barbell Wars on Sunday. The highly competitive championship was made possible through the efforts of Fitness Express and Guyana Amateur Power lifting Federation.
The competition attracted a number of the country's top lifters and was split into male and female categories in the novelty dead lift.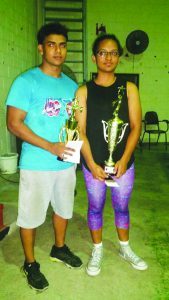 In the Male division, Jeffrey piped Daniel Sooklall for first place while Paul Adams rounded off the top three positions.
In the female division Tiniesha Toney enjoyed the spoils and was closely followed by Krystal Chanderban and Shawnell Warner who finished second and third respectively.
Top female contender, Nessa Bhagwandin won the Novelty dead lift while Erwyn Smith won it for the males.
The organizers wish to expend thanks to their sponsors, De Sinco Trading, Trophy Stall and Pizza Hut and all spectators and athletes who turned out.
While the event was a success, it was not short of hiccups however, the organizing committee is aiming to make this an annual event and fitness enthusiasts can expect a much more high-caliber 2017 edition of the event.