Prime Minister Moses Nagamootoo urged participants of the consultation session into the establishment of an Inter-Religious Television Station to be mindful that freedom of expression does not include "hate speech" incitement of hostility against any other religious faction or people.
He made this pronouncement in his keynote address at the Arthur Chung Convention Centre in Liliendaal, Greater Georgetown, where representatives from different religious organisations had congregated.
He said that he believes the establishment of such a television station would enable cultural diversity and foster social cohesion, it is imperative religious beliefs are not imposed on people.
Emphasising that Guyana is a Secular State, Nagamootoo stated that people have a right to accept religion or not, and therefore he indicated that plurality of beliefs is important, since it is demanded in the Constitution.
He stated that the TV station should not exploit any susceptibility of those watching the programme or provoke any disrespect for other religions or choice of belief. He however asserted that a television programme can enable national development and social cohesion by creation of a united, strong, viable nation.
He asked that the consultation sessions be recorded and placed into a publication "so we can use this as a kind of module and analyse it and see whether today we are developing a model that can be adopted in other parts of the Caribbean."
Newly appointed Chief Executive Officer (CEO) of the Guyana National Broadcasting Authority (GNBA), Dr Prudence Lewis-Bhola indicated th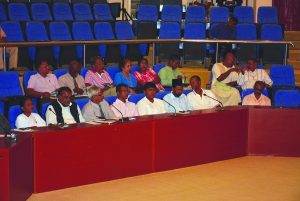 at the development of such a TV station is quite "uncommon" but commendable since it can generate cohesion among the people and make Guyana a pioneering country.
She stated that the station would have the potential to impact the morale of society but should not incite tension among religious groups.
"They should have a common value," she said, reminding them of broadcast standards, regulations and compliances.
"The intent must not be to create uniformity or conformity…but to uphold religious freedom," she emphasised.
She added that GNBA is keen on safeguarding the morale of Guyana, and would be happy to collaborate with stakeholders and is supportive of the "governing policy" that is presented.
Meanwhile, Chairman of the Inter-Religious Organisation Pastor Ronald Mc Garrell stated that it has been an "uphill task" getting the proposal for the television station off the ground but they had persevered with the intent to expose Guyana to a variety of religions.