– Head Coach confident with 23-man selection
With less than a week left on the calendar to Guyana's most important football match yet, Head Coach of the Golden Jaguars, Michael Johnson, has announced a 23-man squad to face Belize on Saturday, 23rd March, in the most significant CONCACAF Nations League qualifier for Guyana, to be played at the National Track and Field Centre at Leonora.
The top notch squad includes three Goalkeepers, seven Defenders, seven Midfielders and six Forwards, as well as three debutantes – Defender Reiss Greenidge, Midfielder Anthony Jeffrey, and Forward Keanu Marsh-Brown.
Reiss Greenidge is a 22-year-old from Norway, where he has been playing professional football since 2017. At 6 feet, 6 inches tall, he is a left-footed Defender who can operate both as a Centre or Left Back. His technical development has been based at the English Premier League (EPL) team Arsenal's famous youth Academy.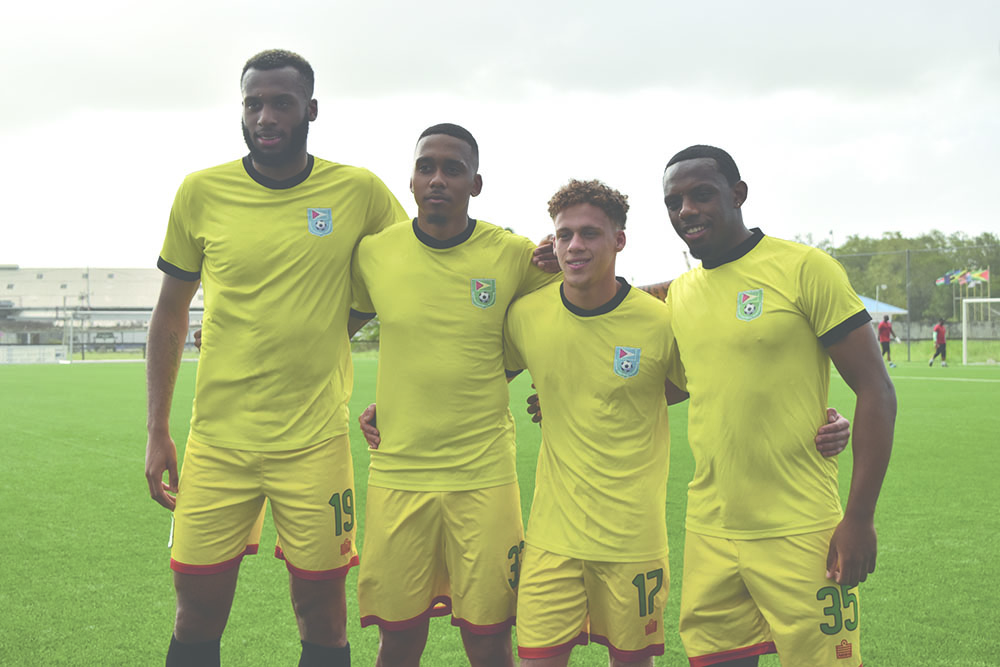 Anthony Jeffrey is a 24-year-old rapid attacking player, who can play as a Winger or as a Main Forward. A talent also produced by EPL's Arsenal's Academy, Anthony has played in the English Football League for Stevenage Borough FC and Wycombe Wanderers FC. Currently a regular goal scorer in the Conference National for Dover Athletic, Anthony will add a new dimension to Guyana's Forward line.
Keanu Marsh-Brown, brother of Ronayne Marsh-Brown, is a 26-year-old seasoned forward in the English Football League playing at Newport County. A product of Fulham's Academy, Keanu has played for MK Dons, Oldham Athletic, Yeovil Town in England, and Dundee in Scotland.
Among the seasoned members of the squad rejoining the team are Warren Creavalle, Emery Welshman, Samuel Cox, Walter Moore and Gregory 'Jackie Chan' Richardson.
This selection follows the Guyana-based team's preparation, which has been in training for approximately eight weeks, and which has had five training matches during this time, the last of which was held on Saturday at the Pierkhan Stadium in Nickerie, Suriname from 15:30hrs (local time). The team went down to a full-strength Suriname Senior Men's National Team by a 3-1 margin.
Head Coach Johnson reflected on the match: "The objective was completed with our friendly game against Suriname. It was a chance for us to have a closer examination of our Guyana-based players in a tough fixture. Everything we are currently doing is focused on March 23. We were able to find out what worked and what didn't, who can play in this position and who plays better alongside this person; we got our answers from the game. You can do as much training as you like, but nothing beats a competitive fixture."
Johnson's point of view
With the 23-man squad listed and all players on Guyanese shores, Head Coach Michael Johnson is looking to solidify the Guyanese outfit in anticipation of a win against Belize. Identifying key areas that he is looking to work on, the head Coach noted that he is happy to have the team encamped at an early date.
"The earlier that we're here, the better (it is for us). We can start to prepare them with what we are looking to do. It's also better (when) we can have them in camp, because some of them are meeting their teammates for the very first time," Johnson explained.
Johnson is of the opinion that he has made all the provisions necessary to ensure that the Guyana team are up to scratch. Preparation wise, the entire team is said to be well oiled. "There been no stone left unturned. We're talking about the local players being encamped for eight weeks, the players we have flown in from America, Canada; so everybody is in a great place condition-wise. And now it's just working on the psychological aspect of the game, because we all know the magnitude of the game," he explained.
Owing to the rigorous preparation and the highly scrutinised selection, the Head Coach believes, without a doubt, that this is the best team Guyana has to offer.
"Probably one of the strongest, if not the strongest team Guyana has ever got together. So we're in a good place, the mood in the camp is tremendous," Johnson stated.
Tickets for this epic match are being sold at $1500 at the following locations: Andrew's Supermarket, Aubrey Barker Road, South Ruimveldt; The Guinness Bar, Durban Street, Gt; West Indian Sports Complex, Robb Street; Nice Restaurante, below Space Gym, Croal Street, Gt; Pegasus Hotel, Guyana; KFC Outlets – Regent Street & Mandela Avenue; Dad's Fish Shop, Den Amstel; Patsy Food Court And Bar, Linden-Soesdyke Junction; The Fashion Box, Vendors Arcade, Bartica; and at Giftland Mall.
Fan jerseys are also available at the GFF Secretariat, the Guyana Pegasus, and Giftland Mall at a cost of Gy$5,000.