– Regal-Fisherman match ends in a stalemate
The action continued last Sunday as the Georgetown Softball Cricket League (GSCL) Inc/Regal Stationery and Computer Centre over-40 20-over softball competition commenced at the GNIC Sports Club.
The match-up saw Wellman Masters duke it out with Regal Masters, with Wellman coming out on top with a four-wicket win. In the other fixture, Fisherman Masters and Regal Masters battled each other in a tense match that came down to the wire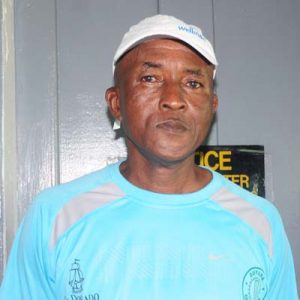 but resulted in a tie.
In the first match, Regal Masters opted to bat as with the overnight showers, the pitch was damp and thus the bowling team would have struggled as the ball would have been expected to hold up on the pitch thus making it a batsman's paradise.
However, it was the other way around as Regal Masters were bowled out for a meagre total of 101. They lost wickets at regular intervals, failing to build a partnership. Top scoring for Regal Masters were Mahase Chunilall, who made an aggressive 29 (3x4s, 2x6s) while Eric Thomas made a quick-fire 28 (1×4, 2×6s) and Mahendra Hardyal 20 (2×6s). The main bowler for Wellman was Greg De Franca, who took 2-15.
In response to the small total set before them, Wellman chased the total down in 18 overs as they ended on 104-6 with the in-form Wayne Jones blasting an unbeaten 58. Bowling for Regal was Tyrone Sanasie, who claimed 3-16, while Throy Kippins and Eric Thomas grabbed one apiece.
In the second fixture, while batting first, Regal Masters posted a commanding total of 162-5 in their allotted 15 overs as they fought against Fisherman Masters. Top-scoring for Regal was Eric Thomas, who made a blistering 61 (1×4, 7x6s), supported by Rudolph Baker who made 34 (1×4, 4x6s) while the chief tormentor was Zameer Hassan, who bagged 3-32. In response to the total set before them, Fisherman Masters began to chase, but lost wickets at key intervals which caused the match to end in a tie as Regal's bowlers were able to keep the batsmen at bay to allow for a draw. This innings saw Unnis Yusuf scoring 40 (1×4, 5x6s) and Troy Ramsaywack with 37 (2×4, 4x6s) while Thomas bagged 2-6 and Kippins 2-35.
Fisherman Masters responded with 162-8.