For the seventh year running, secondary school Under -18 teams will have the opportunity to claim they are the best in town by winning the Milo football competition.
The tournament, which is organised year after year by the Petra Organisation, gives over 20 school teams from Georgetown and other areas, the opportunity to compete against their peers in a test of skill and wit. Over the years, the competition has seen 'bragging rights' being attached to the winners and consistent top teams.
Now 24 school teams can write a clean slate for themselves, as 2018 Champions Sir Leon Lessons and Chase's Academy will have to miss out on the action. The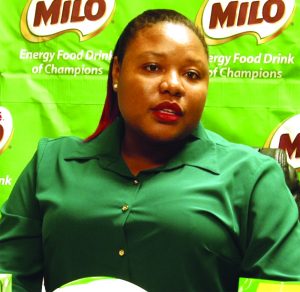 24 teams will be divided into six groups of four and play a series of round-robin matches before the top two teams from each group and the best four third-place teams advance to the quarter-finals. After which, the youths will battle through the knockout stages to make it to the top.
At the launching of the 2019 tournament, Co- director of Petra Organisation, Troy Mendonca while assessing the positives of the tournament, emphasised the importance of Beepats' contribution to revitalising football at the school level.
"This is our seventh year and definitely this tournament has played its part in what we have now – a language that we can talk about development of facilities, we can talk about equipment for schools, coaches for the schools and a wider cross-section of youths being exposed to the game and all these are possible with the commitment and support that Beepats, through its Milo brand, has given over the past seven years," Mendonca stated.
Noting that the company was always willing to help, Nestle Brand Manager Shellona David declared that the company was proud and elated to be on board once again.
"The tournament in itself represents what Milo as a brand stands for. The tagline is: "energy food drink of champions", that alone speaks for itself. That we basically promote an active lifestyle and we do that through sport. This is an opportunity that youths look forward to and we're happy to bring that to them again this year," the Brand Manager disclosed.
On the more technical side of things, Guyana Football Federation's Youth Development Officer Bryan Joseph explained that he was happy to see yet another tournament that would contribute to the betterment of young players' futures.
"What the Petra group is doing with this tournament is in line with what we would like to see along the player development pathway for youth players. This, again, are additional games that are adding to the player development hours that is required for us to produce elite players," Joseph said.
The competition will kick off on Saturday, February 9 and will run for in excess of two months until April 14.
The teams expected to participate are The Bishops' High, Canje Secondary, Cummings Lodge Secondary, Carmel Secondary, Golden Grove Secondary, St Mary's Secondary, East Ruimveldt Secondary, Lodge Secondary, Charlestown Secondary, Vergenoegen Secondary, Kingston Secondary, President's College, Queen's College, Ann's Grove Secondary, North Ruimveldt Secondary, St Cuthbert's Mission, South Ruimveldt Secondary, St John's College, Tutorial High, Annandale Secondary, Friendship Secondary, Uitvlugt Secondary, Marian Academy and Christianburg-Wismar Secondary.
The school finishing in first place will receive $500,000 while second place will pocket $300,000. Third and fourth place will receive $200,000 and $100,000 respectively. All prizes will be given in kind, in the form of a project requested by the school.