Twenty-two-year-old Journalist and radio announcer Denica Henry of Bloomfield Village, Corentyne was crowned Miss Exquisitely Conscious 2019 just after midnight on Sunday, July 14, 2019 at the New Amsterdam Multilateral School auditorium.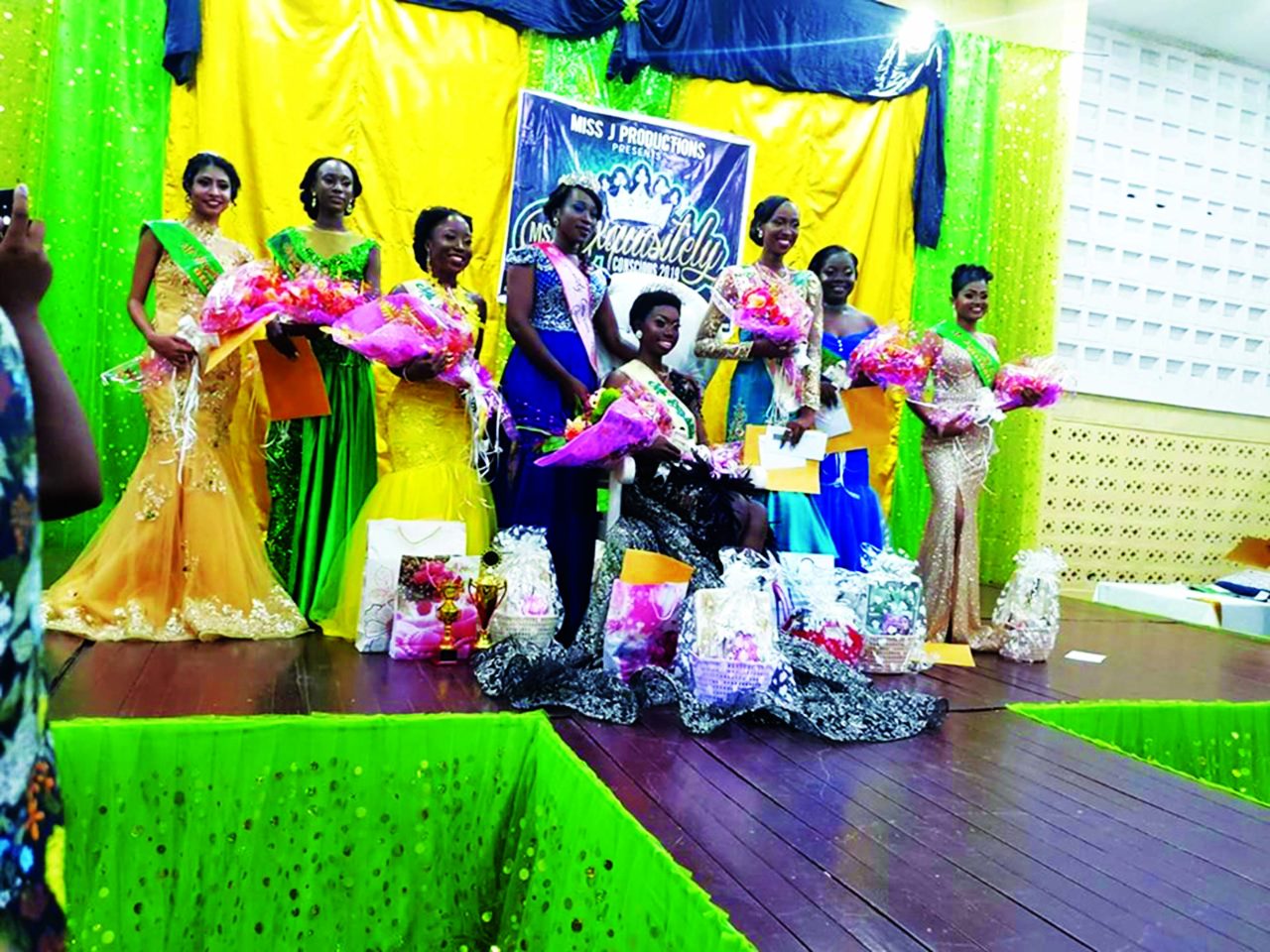 Henry, a mental health advocate and second-year social work student at the University of Guyana, Tain Campus, is currently employed at Little Rock Television Station (LRTV) Rock.FM Radio Station as the host of the popular Morning Spice programme.
She is also the President of the Central Corentyne Chamber of Commerce Youth Arm; Youth Ambassador of the Rose Hall Town Youth and Sports Club (RHTY&SC); and a public speaker who first participated in the Miss Berbice "I'm a Big Deal" Pageant 2017, where she copped the Miss Congeniality and Best Body awards.
The packed audience watched as Henry delivered consistently throughout the night and in the end, in addition to the crown, she was able to cop Best Creative Piece and the Miss Intelligence awards. Her creative piece depicted the giant anteater feeding in its natural habitat and was designed by Randy Madray.
Nerissa Semple, a probation and social services officer from Region Five (Mahaica-Berbice), was adjudged first runner-up and also won the prize for best gown, best talent and Miss Social Media. Her gown was designed by Adena Thorne.
Theresa Moses, a costumer sales representative from New Amsterdam, took home the second runner-up title. Moses was also adjudged Miss Congeniality, Best Smile and Miss Entrepreneur.
The newly-crowned queen and her court will undertake several projects over the next year and will be awareness ambassadors in their various communities.
The Miss Exquisitely Conscious Pageant was conceptualised by Ronda Jonas, graduate senior mistress of the New Amsterdam Secondary School, who is the coordinator, manager and director of the venture.
She is assisted by Shanelly Kendall – an educator attached to the Berbice High School, pageant trainer and model – who, over the duration of eight weeks, trained the delegates in the areas of walking, appropriate body language and posture, public speaking, confidence-building, etc. The pageant caters to women between 18 and 25 years old, married and unmarried, with and without children.
This year, the pageant's theme was "Self-care: Green Environment plus Sustenance", which bridges care of oneself to the sustainability of the environment through glamour. The delegates in this year's pageant each had one wellness focus – environmental, spiritual, financial, occupational, etc, and also chose an interesting local animal.
The four other delegates were Cleyonne Harry, Carrey Hamid, Neomie Nelson, and Hannah Butchana. They each competed in the talent, creative wear, and intelligence segments.
The event was made possible via the support of Linda's Restaurant from Linden, Fabulous Homes, Sentinel Security, C and K Pharmacy, Caribbean Nations Group, Streetwise Restaurant, Jermain Sri Paul, Natasha Pritwri, Natasha's Photography, Catherine Archer, and Jean Rogers.