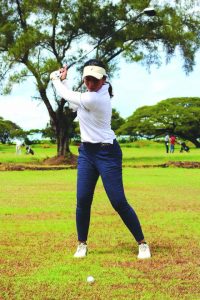 The Lusignan Golf Club is the place to be this weekend, as players and spectators prepare for the Lusignan Open 2019 tournament, first major two-day event of the year, and one in which all the top players in the country will compete for bragging rights.
This year, the Department of Tourism in the Ministry of Business, under leadership of its Director General Donald Sinclair, is the main sponsor of the Lusignan Open.
Sinclair has expressed his extreme happiness at being part of the tournament. He said, "With the sport of golf rising to national importance in the country, interest has grown in the game, and we now have excellent golfers who are able to perform credibly on the world stage."
This event is in its second consecutive year of staging, after many years of absence from the LGC's calendar of activities. Companies such as Macorp, ANSA McAL and Banks DIH, who have been staunch supporters of the event, are each again expected to play an important part in the staging of this tournament.
"This year promises to be a magnificent showdown, as many international golfers will challenge the local players for the title of 'best golfer in Guyana'," LGC President Aleem Hussain has said. "This tournament will showcase the tremendous talent we have, and prepare our players for the Suriname Open in a few weeks."
Under direct supervision of the LGC President, the grounds staff are racing to ensure the grounds are in top condition for the tournament. The weather seems to be cooperating, with brilliant sunshine rapidly drying out the damp areas of the course.
An interesting battle is anticipated when defending champion Avinash Persaud takes on Munaf Arjune, Chandra Lakeraj, Richard Haniff, Mike Mangal, Patrick Prasad, Kassim 'Suga' Khan, Kevin and Sando Dindanauth, and Aleem Hussain in a fight to retain his title.
There will be fierce competition in the other men's flights, as the expectedly numerous players jostle for positions in the winners' circle. Play in the tournament is expected to be scintillating because of the anticipated presence of top players such as Troy Cadogan, Guillermo Escarraga, Miguel Oviedo, Angel Amaris, Mario Acuna, Jordi Pinol, Jeremy Fernandes, George Bulkan, Ivan Gavira, Mauro Gamargo-Ramiro, Aasrodeen Shaw, Carlos Carbo, Clifford Reis, Ian Gouveia, Imtiaz Subhan, Lekhnarine Shivraj, Mahindra "Rommel" Bhagwandin, Ayube Subhan, Mahindranauth Tewari, Maxim Mangra, Parmanand "Max" Persaud, Pur Persaud, Pope Emanuel London, Rabindranauth Persaud, Robert Hanoman, Maurice Solomon, William Walker, Brian Hackett, Jax Harry, Brian Glasford, Roy Cummings, Pandit Haresh Tiwari, Robin Tiwari, Paton George, Eon Blue, Kalyan Tiwari, Mike Guyadin, Lloyd Fung-A-Fat, Colin Ming, Carlos Adams, Rohan Albert, Hardeo 'Curry' Ganpat, Pastor Ragnauth, David Harry, Mark Lashley, and Gavin Todd; along with approximately 12 other local and international golfers who are expected to participate. It is also expected that former LCG presidents Hilbert Shields, Jerome Khan and Oncar Ramroop will be competing in the Lusignan Open 2019.
Then, in what promises to be the largest and most competitive women's field in a long time, 9-time Guyana Open Women's Champion Christine Sukhram will make her first 2019 appearance in an effort to show that she is still the top woman golfer in the country; while former Guyana Open Women's Champions Shanella Webster and Joaan Deo, along with Anasha Ally, Errin Mitchell, Kari Emhling and Eureka Giddings, will do their best to wrest top honours from the field.
Christine Sukhram, who has dominated the women's field for many years, will be tested this year; but it is expected that her talent and ability would withstand the competition which will be coming from the former champions.
With lots of trophies provided by the sponsor of the event, beautiful weather and a well prepared ground, spectators are urged to come see the best golfers in Guyana showcase their individual talent, and learn just how intense the competition is in this amazing sport.
Competition starts early both on Saturday and Sunday, and spectators can join the players on the course or for the presentation and celebration in the afternoons.
For more information on the game, tournament, activities etc., interested persons are invited to contact the Club at 220-5660, or visit their Facebook page – lusignan golf club.