Domino players and enthusiasts are expected to converge at Turning Point Sports Club this Sunday to participate in a big Father's Day Competition which is being organized by Senior Organising Secretary of the Georgetown Domino Association Mark 'Jumbie' Wiltshire.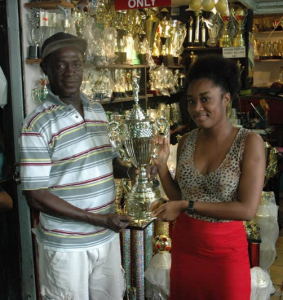 Wiltshire, who has been one of the key figures responsible for the growth and visibility of the sport, will stage the annual event in recognition of Fathers Day and teams from all across the country are being invited to partake in the one-day competition.
The competition has prize monies in excess of $200,000 up for grabs with the winning team set to receive $130,000, while second and third place finishers will take home $60,000 and $20,000 respectively along with hampers.
The Most Valuable player (MVP) of the finals will also collect one hamper.
Yesterday, during a simple ceremony that was conducted at Trophy Stall of Bourda Market, staffer Tanda Crossman present Wiltshire with the winning trophy compliments of Proprietor Ramesh Sunich.
Wiltshire in brief remarks thanked Trophy Stall for once again demonstrating its commitment towards the development of the sport, but more particularly sports in general.
Meanwhile, entrance fee is $10,000 per team and all domino teams and lovers of the sport are being invited to celebrate the occasion.
Wiltshire assured that food and drinks will be on sale throughout the day, while teams are being asked to walk with a good pack of dominoes.
All GNDA rules will be in effect.
Interested teams can make contact with Wiltshire on tele#659-8672 for more information.