Guinness "Greatest of the Street" Football
"All systems are in place," says Marslowe
The 3rd Edition of the Guinness 'Greatest of the Street' Bartica football tournament will take place from June 14 to 16 at that town's Community Centre Basketball Court, and the winning team would advance to the National Finals which would be played in Georgetown in August.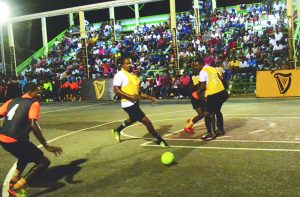 The eight teams set to participate are defending champion Disconnection Crew, Goal Raiders, Almanac Kings, former champion Rivers View, Jones Avenue, Falmouth, Potaro Strikers and Mighty Ruler. The zone will feature 16 teams battling for the coveted title and a place in the grand finale on June 16th. The opening night features elimination matches, with the respective winners advancing to the group stage pegged for June 15th. The two finishers from the two groups will progress to the semi-final round. The subsequent winners will then progress to the final, with the losers facing off in the third place playoff. Similarly, the four teams that fail to make the semi-final stage will battle in the Guinness Plate Championship slated for the final night.
According President of the Bartica Football Association (BFA) and coordinator Alden Marslowe, "All systems are in place for a wonderful tournament, the teams have really caught on with the street football and everyone has really gotten into it. This is the third year and we have seen tremendous growth. We have had three privately run street football tournaments earlier and the teams are definitely catching onto the format."
He further revealed that the tournament has witnessed a record number of entries which supports the belief that the tournament is growing in popularity and overall interest.
"We have had more teams enter than previous editions especially from the outline communities which is great for the event. The anticipation is there from the public, Bartica is a football community and I expect another great tournament with quality action", he added.
Similarly, Lee Baptiste, Guinness Brand Executive stated that everything is geared and ready for another great edition to the phenomenon that is the Guinness 'Greatest of the Streets' Championship. He further noted that he anticipates three nights of exciting action as team's battle for bragging rights and the chance to represent their zone at the coveted National Championship.
The winner of the championship will pocket $400,000 and the winner's trophy and earn the right to represent the zone at the National Championship. The runner up will collect $150,000 and a trophy, while, the third and fourth place finisher will walk away with $100,000 and $75,000 respectively and trophy. The winner of the Guinness Plate Championship will receive $60,000.
The major sponsors onboard of this event are Banks DIH under their Guinness Brand and Colours Boutique.