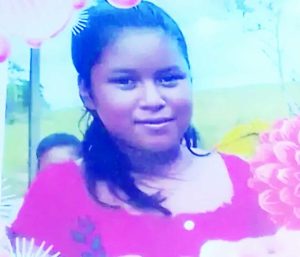 More than two weeks after the body of 12-year-old Amanda Smith of Aishalton village in South Rupununi, Region Nine (Upper Takatu-Upper Essequibo) was found in her yard, her juvenile uncle was on Tuesday charged with her murder.
The name, particulars and photograph of the accused cannot be published, because he is afforded certain protection under the Juvenile Justice Act. He was arraigned in the Lethem Magistrate's Court, and upon the conclusion of a hearing, was remanded to a juvenile holding centre.
A post-mortem examination confirmed that the young girl was strangled to death, and had sustained brain haemorrhaging as a result of blunt trauma to the head and face.
Amanda's parents had left her and her siblings at home on the evening of April 22 while they went out. Upon their return, they discovered Amanda's battered body a short distance from their home. Her teen uncle, who lived nearby, was then taken into Police custody. During the investigation, he allegedly admitted that, as the young girl was heading towards the door to urinate, he stretched out his foot, thus causing her to trip. As a result, she reportedly hit her head against a nearby wall and became unconscious.
The teenager claimed that after panicking, he picked her up and took her to the back of the yard, soon after which he heard the victim's brother calling out to her. In fear, he fled the scene.
When contacted, Crime Chief Wendell Blanhum related that the teenager allegedly sneaked into the house via the back door, which the child's older brother had left open while he used an outside washroom.
After realising that Amanda was missing, a relative told this newspaper that, upon checking the backyard, the 17-year-old suspect was seen fleeing the area.
The family alleges that, during Police interrogation, the accused killer said he went to the house to check on the children. However, according to the child's parents, they would never allow anyone, not even a relative, at their house at that time.
They said they believe the child was attacked while she was asleep, strangled, and then dragged into the yard. "How else did she get compression to the neck? He probably attacked her and strangled her to death," they said.
The devastating news of the child's death has sent shockwaves throughout the small community of Aishalton. Amanda was a 7th Grade student at Aishalton Secondary School.