As the countdown to Emancipation 2017 begins, the African Cultural and Development Association (ACDA) on Wednesday received a much-needed financial boost towards making the August 1 Emancipation celebration in the National Park a most memorable event.
Paul Meusa, Cultural/Brand Ambassador for Kares Engineering Inc., handed a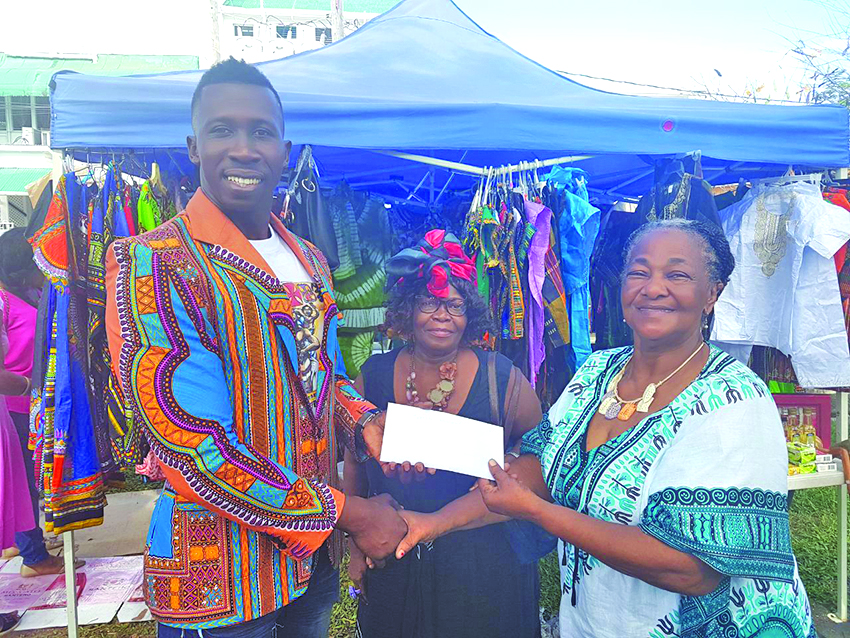 sizable cheque to Clementine Marshall, Chairperson of the ACDA Steering Committee.
The handover, done on Main Street Georgetown, is intended to cover the cost of the performance fees of the international acts.
The location has been transformed into the annual Emancipation Main Street Bazaar. The organiser of the Main Street Bazaar expressed elation at the gesture, which she says has come in very timely, to ensure that Reggae artistes Etana and Everton Blender are duly compensated to perform as the featured acts on August 1 at the National Park.
Ongoing up to July 31, 2017, the Bazaar features options of Afro-influenced cuisine, accessories, clothing and art.
During the handing over of the donation, Meusa disclosed that Kares Engineering Inc has set itself the corporate social responsibility of supporting every possible national cultural/entertainment event.
"We at Kares Engineering are at the forefront of doing what we can to build Guyana through construction, etc. As a Guyanese company that benefits from Guyana, we must give back." Kares Engineering Inc has been in existence for twenty-one years, and has tangibly supported many social events, such as community cricket at the National Stadium and around Guyana. "This is our tangible proof that we are a Guyanese company that is not just about taking and never giving back, and we will continue to promote and support our many events that provide a safe, culturally enriching environment for social cohesion and cultural awareness.
"Most recently, we donated some 500 school bags and school items in Berbice, to ensure that children are afforded the opportunity to have new school supplies to boost their morale and motivate them to understand that Kares genuinely cares," Meusa said. Kares has also sponsored sports events such as Guyana Cross fitness 2017, and has been sole promoter of the Shaggy, Rayvonne and Rick Rock show several years ago. "We are also engaged in many children feeding programmes, and this donation signals a new partnership with ACDA — to support their many youth development programmes, such as education," Meusa said.