ꟷ aims to impress in Franchise League
By Timothy Jaikarran
The New York National Cricket League (NYNCL) has concluded, and Javed Karim is hoping that his performances with the bat therein are a precursor to his performances in the upcoming Guyana Franchise League.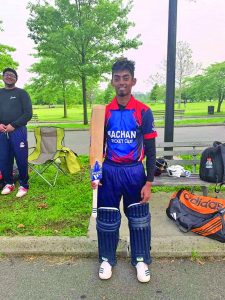 Hailing from the Blairmont Community Centre Cricket Club (BCCC) of Region 5 in Guyana, Karim played in only nine matches in the NYNCL, but emerged as one of the standout players on his team, having amassed a total of 285 runs at a batting average of 47.50 to stand 6th on the batting charts; and he is now
optimistic about his performance on local soil.
In an interview with Guyana Times Sport, Karim was asked about his current form. He replied, "Well, since before I came over here (USA), I was making runs. I scored 56 against Young Warriors in my last match in Guyana, and recently I've been doing a lot of indoor sessions with the bat. I normally do batting practice 2 times a week, just to stay in touch.
"I would like to score a lot of runs in the Guyana Franchise cricket, knowing that I'm in a good batting form; and also (in) the upcoming tournaments in Berbice. If franchise cricket is being played this year, my goal for 2019 is to be a part of the academy team; and to achieve this, I will work extra hard on my game and my fitness."
Karim opined that his form has improved drastically, especially when it comes to stepping up the batting pace. He noted that, in the NYNCL, the ball comes through fairly quicker because of the type of surface, and he said it is a great experience.
Karim says he would like to extend gratitude to Vijai Hansraj, Ravi Etwaroo and Powan Persaud, for making his journey to play in the NYNCL possible.