…GFF extends licence offer to amateur coaches/teachers
Courts Guyana is again fuelling the Boys Under-11 Pee Wee tournament, this time with an investment of $4 million. Banks DIH is also on board, and the Guyana Football Federation (GFF) has made a tangible offer to upcoming coaches.
This eighth annual tournament is expected to kick off on Saturday, September 21st, and 24 male teams are set to battle for the spoils.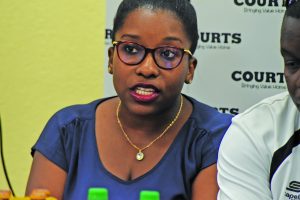 While these business giants Courts and Banks DIH are its sponsors, the tournament is being coordinated by the Petra Organization, whose Co-Director Troy Mendonca has hailed the sponsors' investments as worthy causes, citing the number of national youth players who have passed through the Pee Wee tournament in former years.
"Recently, we would have seen the country involved in a whole host of youth tournaments, and I think we can safely say a lot of players throughout the national programme, from Under 15 to seniors, would have come through the ranks of the Pee Wee tournament. So the investment that Courts and Banks have been making for the past seven years does not stop at football, and I think it's a worthy one," Mendonca explained.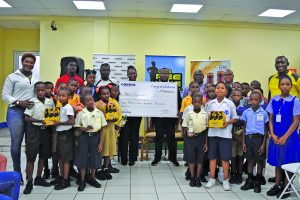 The 24 participating teams comprise of 16 Georgetown schools and eight hailing from the East Bank, East Coast and West Coast of Demerara. They would each be placed into one of six groups of four participants for the round robin segment of the tournament, after which the knock out stage will begin.
Explaining that he is eager to see what this year's tournament has in store, Banks Communications Manager Troy Peters declared that the Pee Wee tournament is the highest level of competition for that age group.
"We look forward to a very exciting time; and I can say that with Courts and Petra Organization, they've really given us that encouragement to stick with this tournament, because it has really reached a high level; or, as I should say, the top of the bar," Peters declared.
Roberta Ferguson, who spoke on Courts' behalf, professed higher hopes for those who begin their football careers at the Pee Wee tournament.
"I know that at this level, getting them involved enables them to find a love for it (football). So we're happy to see so many students being able to commit to it from such an early age; and we hope that from this year especially, we're able to produce even more great players for years to come, who can join Guyana's national team," Ferguson shared.
Shifting his focus from the students, GFF's Youth Development Officer Bryan Joseph stressed the need for certified coaches.
He extended to the amateur coaches and teachers that lead the Pee Wee an invitation to become certified. "CONCACAF has now made it available to us, and we're making it available to the teachers to participate in licensed coaching courses. So, hopefully, in two years or so, all the teachers that are leading the teams in the tournament would have acquired a minimum 'D' CONCACAF licence. If the knowledge that the teachers have is increased, then it would be passed on to the players," he reasoned.
The tournament is expected to run from September 21st to November 2nd, and play would be at the Ministry of Education Ground, where St Pius Primary will defend their championship. Starting time for the tournament has been pushed to 1pm or 13:00h, to facilitate the Ministry of Education's Math Camp that is held on Saturday mornings. (Jemima Holmes)