Next Gen & HJ Entertainment's "Not In My House" …
By Timothy Jaikarran
The time is drawing closer for the showdown, the day when the highly anticipated feature boxing event presented by Next Gen Global Marketing and Hits & Jams Entertainment is staged at the Durban Park in Georgetown.
"Not In My House" will feature more than 50 rounds of high quality boxing that is certain to set the Durban Park ablaze on September 28.
In an interview with Guyana Times Sport, event promoter Aleem Hussain excitingly disclosed that the armed services of Guyana will be receiving a special treat, compliments of the promoters.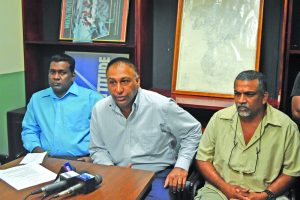 "I would like to make just a quick update: The promotion team, HJ Entertainment and Nex Gen Global, along with our partners, (is) going to donate more than 5 million dollars in complimentary tickets (for) free entry to the armed services. That basically includes the Police Force, Fire Service, Prison Service and the Guyana Defence Force (GDF), as a thank you for their service, so they can come out and enjoy the boxing on the 28th September," Hussain said.
The main event of the night will see Guyanese superstar Dexter Marques in hot fistic contention with Jose Antonio Jiminez of Colombia. Winning is everything to Marques, because it would mean that he gets another shot at a major fight if he prevails against the Colombian star.
Marques sees this event as a "grudge match", since his last matchup with a Colombian boxer saw him losing the encounter by a single point.
Jiminez has an unblemished record of 21 fights without a loss or draw, but Marques remains confident he can overcome the Colombian, even though he has spent some time away from the ring.
According to Hussain, HJ Entertainment would be providing patrons with fabulous entertainment. There will also be an after-party powered by 94.1FM and HJ Entertainment Guyana Carnival. Complimentary tickets are available at Hits & Jams Entertainment's main office, and at New Trend Auto.