The Kennard Memorial Turf Club will come alive on Sunday, March 29 when the club hosts its one-day Phagwah horse race meet.
Six events are slated on the cards, with the major event being the C & Lower one-mile race with the champion horse set to be awarded $600,000.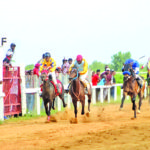 On the exciting day of racing, which will ride-off at the high-class Kennard Memorial Turf Club at Bush Lot Farm, Corentyne, Berbice, the K Non-Winner & L-Open race will commence the day. The horses will run at 6 furlongs with the top horse set to bag $120,000. Entry to that race is $13,000.
The second event on the card is the H3- Winner of One Race and Guyana Bred Open category. This race will be seven furlongs in distance and the first-place prize is $250,000. Entry to that race is $30,000. The third event will be the L Non-Earners at the 5 Recognise track. This race will be five furlongs and the top horse will bag $100,000.
The fourth race listed on the cards is the J3 and Lower category. Horses will run 6 furlongs and the top horse will earn $160,000. Entry to this event is $18,000. In the three-year-old Guyana Bred Open, the top horse that completes the seven furlongs will walk away with $250,000. The entry fee for this race will be $30,000 while the $600,000 feature event, the C & Lower will have an entry fee of $73,000.
Entries will be closed on Sunday, March 22. No late entry will be accepted. Among the sponsors on board are Metro Office and Computer Supplies, Torginal Paint Inc, Dalip Trading Limited, Silvie's General Store, Poonai Pharmacy of Rose Hall Town, Rohan Auto Spares, Rohan Oudit, ANSA McAL and Demerara Distillers Limited (DDL).