GCB/Dave West Indian Imports and Exports U-15 Inter-county…
By Brandon Corlette
After registering two wins in as many matches in the Guyana Cricket Board (GCB)/Dave West Indian Imports and Exports U-15 Inter-county, the Berbice Under-15 Coach Leslie Solomon is confident of his troops going all the way. Berbice's latest victory came against Demerara, where they recorded a 64-run win.
The boys from the Ancient County will now meet Essequibo today, Thursday, February 20 at Lusignan. After Berbice's win on Tuesday last, Coach Solomon noted that the team have been performing credibly. "We made over 280 against President's XI and we scored 140 on a turning and difficult pitch. We knew once the pacers had bowled their 10 overs, the spinners would have gotten the job done," Solomon posited.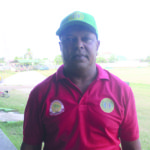 Being undefeated, Solomon signalled his intentions of exposing the players who have not made the final starting XI in the past rounds. "We will be looking to give them a chance against Essequibo and in the final, we will be back to our strongest XI," the Head Coach stated.
He further added that he was impressed with the overall teamwork. Solomon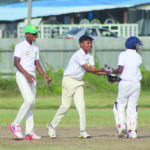 expressed positive sentiments on the depth of the batting; as was seen in the Demerara match, the team played an extra batsman, which proved to be significant. The confident and experienced coach also reminisced on the dominance Berbice had shown against Essequibo over the years.
Solomon directly recalled the match in 2013 at Enmore when Berbice U-15 bowled out Essequibo for 17. This current Berbice team is a star-studded one with West Indies-16 player Rampertab Ramnauth leading the charge. Ramnauth has been in the runs with 96 in the first match followed by 27 in the second. His fellow opener, Avishkar Persaud has also recorded a half-century while Salim Khan, playing his second U-15 inter-county, has shown his all-round brilliance against Demerara.
Guyana U-15 spinner and Berbice Vice Captain Matthew Pottaya has also shown his experience in this tournament. Essequibo, after suffering two defeats, will be looking to upset the strong Berbice outfit when the match bowls off at Lusignan. Demerara will meet the President's XI at GCC Bourda in the third round. The final round will be played on Saturday at GCC Bourda with the top two teams on the points table.
Essequibo Under-15 squad: Benny Persaud (Captain); Shazif Mohamed; Ragindra Ramblin; Bruce Vincent; Ijihad Kadir; Gladwin Henry; Mohandas Ali; Akeem John; Gulcharran Chulai; Tekeshwar Nankoo; Adesh Dass; Ramesh Seeram; Davendra Lall and Kehav Deonarine. Coach Anthony Adams and Manager Vickram Ramnarine.
Berbice Under-15 squad: Rampertab Ramnauth (Captain); Avishkar Persaud; Zadeem Larose; Sanjay Algoo; Rashaad Gafur; Nyron Hicks; Damion Cecil; Kevin Kisten; Salim Khan; Matthew Pottaya (Vice Captain); Kumar Deopersaud; Lyndon Simon; Aaron Craig and Shiv Harripersaud. Manager Ameer Rahaman and Coach Leslie Solomon.