Den Amstel and Buxton United Football Clubs executed brilliant defensive tactics to secure victories on Friday night in the Guyana Football Federation (GFF)-KFC Elite League Cup.
In an exciting double-header, Den Amstel claimed victory over Ann's Grove with a 4-3 scoreline, while Buxton United triumphed over Milerock with a solid 2-0 win at the Eve Leary Sports Ground in Kingston, Georgetown.
In the first match, Den Amstel struck early, netting a stunning goal by Dontee McAulay in the ninth minute. Ann's Grove managed to level the score in the 24th minute, and the teams ended the first half evenly matched.
The second half saw Ann's Grove taking the lead with a goal by Shemar Beckles in the 60th minute. However, Den Amstel bounced back with an impressive strike from Keanu Laurence two minutes later, followed by a third goal by Gideon Payne in the 84th minute.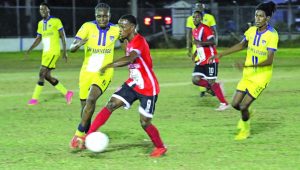 In the 89th minute, Justin Herod from Ann's Grove netted a goal to equalise the score for the second time. However, the team's hopes were dashed as Laurence scored a second goal at the 90+1-minute mark, securing Den Amstel's victory.
In the second match, Buxton United were focused and determined to clinch victory, netting one goal in each half. Striker Lennox Odean scored in the 26th minute, and despite Milerock's efforts to equalise, Vormount Munroe sealed Buxton's victory with a final goal in the 81st.
In Group A, the Guyana Defence Force lead with a flawless winning streak, notching up three straight wins for a total of nine points. Buxton United are in second place, securing nine points from four games, with three victories and one loss.
Santos Football Club hold steady in third place with six points, while both Fruta Conquerors and Milerock have earned one point each.
In Group B, the Western Tigers dominate the leaderboard, claiming the top position with a perfect record of three wins and nine points. Den Amstel are hot on their heels in second place, also tallying nine points from three wins and a single loss.
The Guyana Police Force have the third spot with six points from three games, boasting two wins and one loss while Ann's Grove United take fourth place and Victoria Kings complete the table in fifth place.
The championship's victors will walk away with a cash prize of $1.5 million, while the second-placed team will bag $1 million. The third and fourth-placed clubs will each receive cash prizes of $500,000 and $250,000, respectively.