A Corentyne, Berbice woman was on Tuesday night killed by two gunmen who kicked down the door to her home and shot her.
Dead is Lilawatie Muhammed, 45, a domestic worker of Lot 198 Sixth Street, Tain Settlement, Corentyne, Berbice.
Reports are the woman was killed in front of her children about 23:30h.
According to the woman's 18-year-old son, Ashad Ishack, he and his 21-year-old sister and their mother were at home when two masked men kicked open the front door of their home. He said one of them was carrying a shotgun.
He explained that they were all put to kneel on the floor and the men then demanded money. However, the mother of four said that she did not have any money.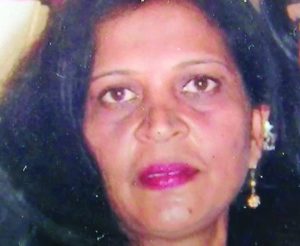 The teen related that one of the men responded by placing the gun to her throat and pulling the trigger. The bullet exited the top of her head and she fell dead on the floor, the young man said.
This publication was told that after shooting Muhammed, the men immediately exited the building, scaled the fence and disappeared into the bushes between the village and the sea. The two siblings then alerted Police and rushed their mother to the Port Mourant Hospital where she was pronounced dead on arrival.
B Division (Berbice) Commander, Assistant Commissioner Ian Amsterdam visited the family on Wednesday, along with members of the Cops and Faith Network, to extend his condolences. The Commander promised the family a thorough investigation.
Meanwhile, speaking with the media, Amsterdam said Police have since arrested one person for questioning.
"The gun was placed on her throat, because we have two holes one on her throat and one on her head, which indicated that the gun was placed on her throat and the warhead exited through her head. After that, they ran out of the house and discharged a round somewhere in the yard as they were leaving. We have one man in custody who is said to have been having problems with the family," Amsterdam related.
According to him, the Police are not counting it as a robbery based on the fact that nothing was stolen.
"So we got to look to see if it was an execution as against a robbery."
According to the Commander, the evidence does not indicate that the gun went off accidentally. "According to the son, they did cock the gun, meaning that they did put a bullet in the breech and they did not shoot anybody else. If it was not execution, they would have been looking for something else but having discharged a round and then coming outside, they discharged another one without even getting cash or valuables; it could be that their intention was to execute her."
In 2016, Muhammed's home was destroyed by fire in what was believed to be an act of arson. The suspects in that act are all overseas.
The family of three has since been renting the Tain Settlement house. Police are continuing their investigations. (Andrew Carmichael)