A man was arrested on Wednesday after he was found with 9 grams of cannabis in his possession at Kildonan Village, Corentyne, Berbice.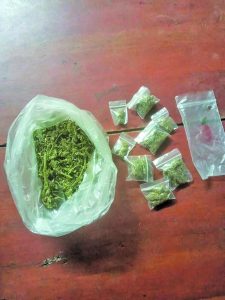 The Police have said that on Wednesday, at about 20:40h, a party of Policemen was on mobile patrol duty when, in the vicinity of Kildonan Village Corentyne, they observed the 26-year-old suspect sitting on a bench.
They conducted a search on his person, and unearthed one transparent plastic bag with what appeared to be ganja. He was told of the offence committed, cautioned, arrested and escorted to the Whim Police Station, where the suspected cannabis was weighed in his presence and amounted to 9 grams.
Charges are expected to be laid shortly.