Created with the intention of encouraging student interaction and bringing students together at the University of Guyana, one first-year International Relations (IR) student, Jafar Gibbons, has championed the hosting a small-goal football tournament designed with a twist.
The tournament, Kings of Studies 2019, will commence today from 12:00h at the side of the newly constructed Behavioural Sciences Building.
Kings of Studies 2019 was birthed in the mind of one first-year IR student of the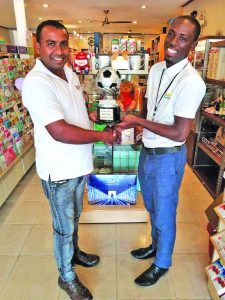 University of Guyana, Jafar Gibbons.
The competition will feature teams that comprise members from various faculties as opposed to University norms (inter faculty sports). Ten teams will be vying for top honours.
Jafar also stated that the competition level is expected to be high as teams are eagerly anticipating the commencement and conclusion of the one-day tournament. The matches will be round-robin style, followed by the knockout stage, which will be three games – two semi-finals and the final. The games will be played in two five-minute halves for the one-day event.
The event organiser also stated that he would like to thank those who have thrown tremendous support behind the said tournament, namely C&L Construction Inc, Kashif and Shanghai Organisation, Guyana Football Federation Inc, The Office of the Vice Chancellor at the University of Guyana, Signature Moov, Robbie Rambarran, Asim Shakur, ASP Antonio Fredericks, Sharma Solomon and Lavern Fraser.