A Pike Street, Kitty, Georgetown resident was on Wednesday afternoon busted with a quantity of ganja concealed in speaker boxes along the Mazaruni River in Region Seven (Cuyuni-Mazaruni).
Based on reports gathered, the 35-year-old miner was in a passenger boat when a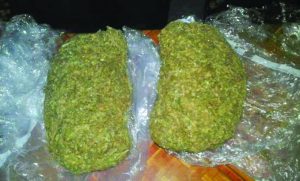 Police patrol stopped and search the vessel. The boat was reportedly carrying goods at the time the search was conducted.
During the search, the Police realised that the two speakers were tampered with and decided to further examine them. It was at this time that the illegal substance was unearthed.
The seeds, leaves and stems were confiscated and the suspect taken to the Bartica Police Station where the drugs was weighed and amounted to 902 grams. The man was told of the offence and arrested.
He is being processed for court. Only last week, Police in Bartica, Region Seven, arrested a man and a woman after they were found with large quantities of marijuana in separate drug operations.
Two Wednesdays ago, 21-year-old Kavita Surujnauth of Parika, East Bank Essequibo, was intercepted at the Bartica Stelling with almost three pounds of cannabis.
The substance was found parcelled in black plastic bags wrapped with scotch tape in the haversack the woman was carrying. She was taken to the Bartica Police Station where the illegal substance – amounting to 1.291kg – was weighed in her presence. She was subsequently charged and placed on $200,000 bail.
On the other hand, O J Evans of Samaroo Dam, Pouderoyen, West Bank Demerara, who was arrested one week ago at the Bartica Stelling with 1227 grams of cannabis, was remanded to prison.
Based on reports received, the man was heading to an interior location when he was seen acting in a suspicious manner. A search was conducted on his person and the marijuana was found in a butter container wrapped in a salt bag.