With the Kennard's Memorial Turf Club annual Boxing Day horse race meet fast
approaching, Stag Beer has been added to the sponsorship cart for the eight-race programme.
With over 70 horses anticipating a win in the one-day event, Justice Cecil Kennard, President of KMTC extends his appreciation to Ansa McAl, through their Stag Beer brand for coming on board."
The retired justice indicated that this was the third year Stag has been on board with the club in just as much events for the year. This, he indicated was an integral part to the continued upward mobility of the sport which helps to realistically help to fan out the future of the 44 year-old event.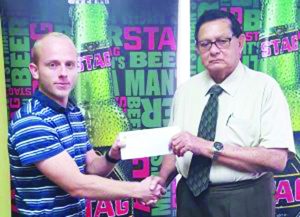 Ansa McAl's Beverage Marketing Manager, Robert Hiscock, also expressed his excitement about the club's upcoming meet stating that "We at Ansa McAl see sport as crucial to developing our local communities. Horseracing is no different, and it is because of that, that we are happy to be on board with Stag as a sponsor of this event. We anticipate a great turnout as horseracing is incredibly popular in this part of Guyana."
The day's event is being run under the rules of the Kennard's Memorial Turf Club and if for any reason there are less than five horses entered for an event, the club reserves the right to not run the race.
According to the organizers, five horses have to run for there to be a third place prize, while seven are needed for a fourth place prize. If only four horses run, then the winning prizes will be reduced by 25% while if there are only three starters then the reduction will be 40%.
CP Got Even, Score's Even, Kings Knight, Just Call Me Boss, Princess She Not, Golden Blue Echo, Spit Fire, Plum Plum, Goodwill Boy, Lady Budapest, Climate Change, Blame the Jockey, Jack in My Style, Because I Say So, Bridal Stone Corner Super Cat, Royal Jet, Perfect Gold, King Stanley, Awesome Cash and Flash Again are some of the horses expected to take to the track from the Chris Jagdeo, Jumbo Jet, Dennis De Roop, Nand Persaud, Elcock and Poonai  stables.
Justice Kennard also mentioned that spectators could look forward to a fun filled day of racing which will include musical entertainment.
The Kennard's Memorial Club, Xmas Race Meeting, is slated to take place at Bush Lot Farm, Corentyne, Berbice from 13:00h.