Come December 26, 2019, horse racing fanatics will flock the Kennard Memorial Turf Club for its annual Boxing Day Horse Meet at Bush Lot Farm, Corentyne, Berbice.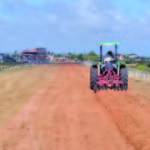 The event is expected to have at least 60 horses participating, with the majority of them being from big-name stables such as Jumbo Jet Racing Stables, Fazal Habbibulla Stables, Chris Jagdeo Stables, Lenny Singh Stables, and Nand Persaud Stables. It is also expected that the starting line-ups will feature horses such as Don't Over Look, Jus Call Me Bass, Vera's Finally, Storm Bird, Lucky Star, TNT, Golden Blue Ecko, Not This Time, Justify the Heat, and the newly-imported Santa Cruz Lady and Golden Dancer.
In the 2018 edition of the meet, Lucky Star won the feature event and the handsome purse of $1,000,000. The feature seven furlongs' race saw Jockey Winston Appadhu in the saddle; the animal broke early and was among the front-runners. The racehorse was never challenged as Jockey Appadhu timed his sprint home perfectly to win easily and take the $1 million first prize and the Metro trophy up for grabs. Settling Star of the Sheriff Stable settled for second while Isn't She Charming came in third and Chamaylee fourth. Jockey Appadhu will be keen to defend his title as he will be gunning to repeat this feat again.
These races will be conducted under the rules of the Guyana Horse Racing Authority, and interested owners/trainers and handlers can call the following persons for more information: Ivan Dipnarine (331-0316); Justice Kennard (623-7609 or 235-4818); Fazal Habbibulla (657-7010); Dennis DeRoop (640-6396) or Compton Sancho (602-1567).
Some of the main sponsors on board are Metro Office and Computer Supplies, Torginal Paint Inc, Dalip Trading Limited, Republic Bank, P & P Insurance Brokers, TSM Inc, Movie Town, Mohamed's Enterprise, Hand-In-Hand, New Building Society, Silvie's General Store, C Gobin Agri Sales of Essequibo, Chatterpaul Deo, Nand Persaud and Company, Poonai Pharmacy of Rose Hall Town, Rohan Auto Spares, Rohan Oudit, Kissoon Dyal Rice Mill, and Demerara Distillers Limited among others.
Entries close on December 16, 2019. No late entries will be accepted.