The Guyana Teachers Union (GTU) Upper Cluster Branch East Bank Demerara (EBD) and Rubis Guyana Inc have formed a fairly new partnership, which gave students the opportunity to get involved in sport activities.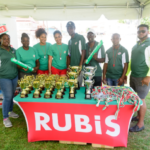 The sponsorship agreement saw the energy company providing numerous trophies and polo shirts for all the participants in GTU's annual sports day, which was hosted at Farm, East Bank Demerara. The event attracted more than 200 children who participated in various sporting events.
Rubis Accounts Executive Rhonda Johnson explained that the GTU had shared its desire to enhance the event and further motivate the participants with the company.
"Once the organisers met with us and shared their challenges and vision, our team was on board," Johnson added.
"In the long run, the presentation of prizes at events such as these promotes the building of a strong citizenry for themselves and for Guyana."
GTU Upper Cluster Branch Sport Chairman Shannon Vickerie expressed his gratitude on behalf of his team to Rubis Guyana Inc for its support of the young athletes.
"It is important that we encourage and motivate our young people in positive pursuits," he stated.
Rubis also presented the event's officials with tokens of appreciation.