The auditorium of the St. Stephen's Lutheran Church in Brooklyn, New York was last Friday evening transformed into a grand Kwe-Kwe, so planned as one of the main events for this year's Guyana Folk Festival.
Both the local and Guyanese communities gathered to participate in this African Guyanese tradition, which has been an annual event of the fest. The Kwe-Kwe is a celebration that takes place on the night before the marriage ceremony of a couple, and involves the singing of traditional songs, dancing, eating and drinking. The festivity allows the two families opportunity to become acquainted whilst they share marriage advice to the potential bride and groom.
Friday night's Kwe-Kwe kicked off with 'a ganda', wherein the celebrants sprinkled rum on the floor to invite the spirits of the dead to come and be part of the celebration. This was followed by the greeting song "Good Night Ay", then by the general invitation to all the visitors attending: "Come to My Kwe-Kwe."
The buying of the bridegroom followed with much laughter and banter, as advice on matrimonial matters was dispensed and a demand for a demonstration of the couple's sexual skill was made when the song "Show Me Yuh Science" was chanted.
The evening closed with the departure song "Las Wan, Las Wan".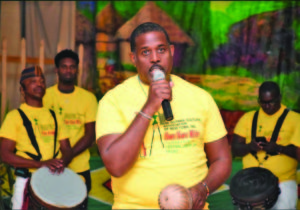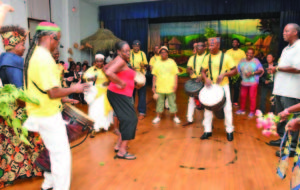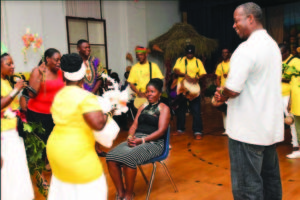 The Department of Public Information said last Friday evening's festivities saw persons of all ethnic backgrounds participating, including the Karao indigenous troupe which graced the occasion with a cultural dance as they encouraged persons to embrace Guyana's diverse cultures.
"Culture is the framework that defines…it is the framework for history," remarked New York State Senator Kevin Parker, who took time out to attend the function.   While Kwe-Kwe celebrations are not as popular as they once were, the hosting of a Kwe-Kwe night as part of this year's fest serves as a reminder of Guyana's rich African cultural roots and traditions.
The Department of Public Information has said it is the aim of the Guyana Cultural Association of New York to encourage Guyanese at home and abroad to make Kwe-Kwe, with its distinctive music and dance, part of their educational and cultural experience.