The King of Soca, Machel Montana no doubt left Guyanese who assembled at the Guyana National Stadium at Providence wanting more, after his electrifying performance at the "Soca in My Heart" fete put on by Banks DIH Limited on Saturday night.
At approximately 00:30h, the Stadium came alive when the Soca icon, clad in white, took to the stage to entertain the capacity crowd who all erupted in screams of excitement at the sight of him.
From the start to the finish of his 90-minute performance, the crowd filled with both young and old gyrated to the familiar hits of Montana.
Some were even thrilled to touch the Soca King, who showed that he appreciated his Guyanese fans especially since he was returning to Guyana after a seven-year hiatus.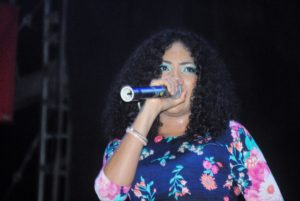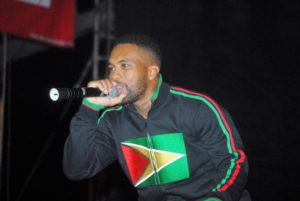 But it was worth the wait as the crowd partied until they were "wet with sweat", but did not back down from enjoying every second of the fete.
Montana performed hits such as "Advantage", "Happiest Man Alive", and "Like A Boss" which are some of his latest hits and even returned to his beginnings with iconic Soca songs such as "Come Again" and "Wine On Me".
Following his performance, it was clear that the Guyanese fans wanted more, as some were screaming "We want more!"
However, not only were they treated to the Soca King but they were also thrilled with performances from some of Guyana's best artistes such as Timeka Marshall, who entertained the crowd with her hits as well as the all-popular "split in the de middle"; Adrian Dutchin, who showed that his waist was also like rubber when he got the crowd excited with some of his moves; Big Red, who performed her hits; and Kwasi Ace, who had the crowd erupting with laughter as he displayed his rhyming skills.
All in all, those Guyanese who turned up at the Stadium can say they were thoroughly entertained. (Kizzy Coleman)