A 36-year-old labourer was on Wednesday morning nabbed at the Guyana-Brazil border crossing at Mango Grove, Lethem, Region Nine (Upper Takutu-Upper Essequibo), with a quantity of items he smuggled into the country.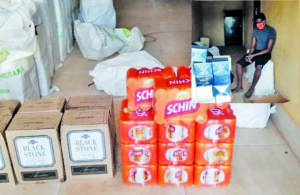 The man has been identified as a Mango Grove, Lethem resident.
Police acting on information received went to the crossing at Mango Grove, where they saw the man pushing a wheelbarrow with several items.
Upon seeing the Police, persons who were in the boat which was used to smuggle the items into Guyana from Brazil made good their escape and headed for Brazil by crossing the Takutu River. However, Police nabbed the Lethem man, who admitted that the items were smuggled from Bonfim, Brazil, for himself and other persons. Among the items found which were seized were 40 cases of Black Stone Brazilian rum, 52 cases of Brazilian beers and four boxes containing a quantity of cosmetics. The man was immediately arrested and is currently in Police custody.
Just a few weeks ago, four Brazilians were arrested by Police at the Takutu Crossing, with a quantity of smuggled goods.
The foreigners were identified as Roger Felix Duarte, Francisco James Dias, Aegre De Souza Marques and Ingrid Li Madocarmo.
The group was nabbed with 10 long track pants, 10 pairs of socks, 23 pairs of footwear, 30 bottles of cologne, three Gillette sets, 33 vials of skin cream, five bottles of shampoo, 10 bottles of body spray, 55 vials of medication, six bars of soap, 25 boxes of syrup medication, six boxes of dye and six bottles of nail polish.
The Brazilian nationals were escorted to the Lethem Police Station where the items were lodged. They were deported and handed over to the Brazilian authorities.