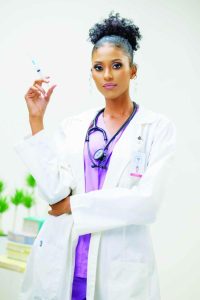 Medical student Lateefah Forde is set to present Guyana at the Miss Global International pageant on Saturday evening in Jamaica.
Forde was crowned Miss Global International Guyana back in August by the Miss Global International Guyana (MGIG) Pageant Organization under the stewardship of new national director Reneé Chester.
The Miss Global International Pageant is renowned for celebrating the beauty, intelligence, and inner strength of young women from diverse backgrounds. This prestigious annual event provides a platform for these empowered women to showcase their unique talents, advocate for social causes, and develop essential leadership skills that would positively impact their communities.
With the hope of wowing the judges, the Guyanese representative will join several beauties from around the world in Montego Bay on Saturday evening. On pageant night, the delegates would compete in various segments, including swimwear, talent, evening wear; and, more importantly, the intelligence segment.
Back in 2017, the title was claimed by Guyana's Cynthia Dookie when the pageant was hosted in Jamaica. In 2015, Alicia Bess was the Second Runner-up, and Poonam Singh was First Runner-up in 2016.
Other beauties have since represented Guyana, but none has managed to win the coveted crown. In fact, several years have elapsed since Guyana last participated in the pageant.
Forde, a powerful, compassionate, and trailblazing young woman, intends to do her best to walk away with the title on Saturday evening.
The Miss Global International Pageant is run by its founder and chairman, Lachu Ramchandani.