…David Granger cannot contend he is not a party – lawyers
By Jarryl Bryan
Attorney General Anil Nandlall and Trinidad Senior Counsel Douglas Mendes on Monday upped the pressure for the second election petition filed by Monica Thomas and Brennan Nurse to be thrown out by the High Court on the basis of its defective service.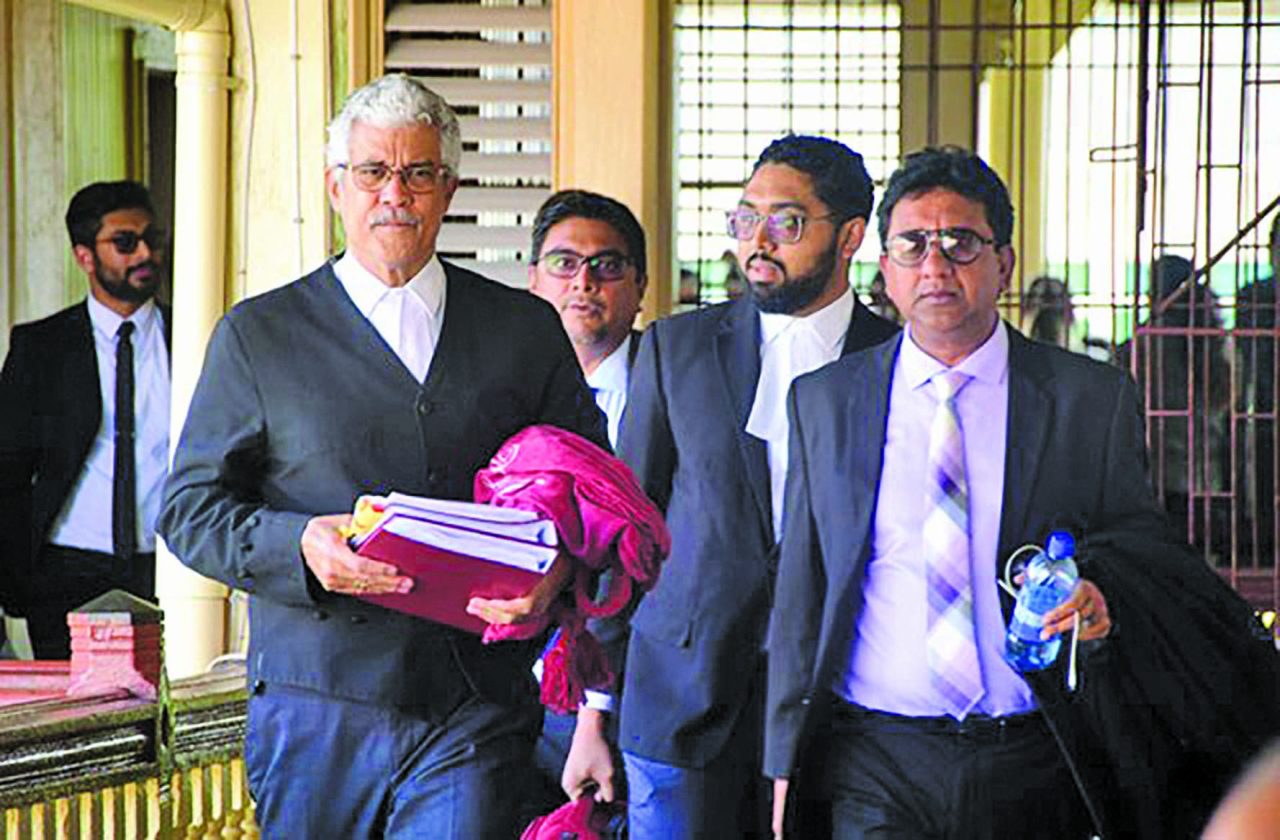 Nandlall and Mendes are seeking to have this petition thrown out by acting Chief Justice Roxane George, since it was not served on former President David Granger, the second named respondent in the petition, within the prescribed time set out in the National Assembly (Validity of Elections) Act.
Last week, Granger's legal team made efforts to extricate him from the case by using Section 27 of the Validity of Elections Act and gave notice that he would not be contesting the petition. In his oral submissions to the court on Monday, Nandlall argued that by using this Act, Granger himself has acknowledged that he is a properly named party in the case.
Section 27 (2) of the Validity of Elections Act states "A respondent who has given the prescribed notice that he does not intend to oppose the petition or for whom any person has been substituted shall not be allowed to appear or act as a party against the petition in any proceedings thereon."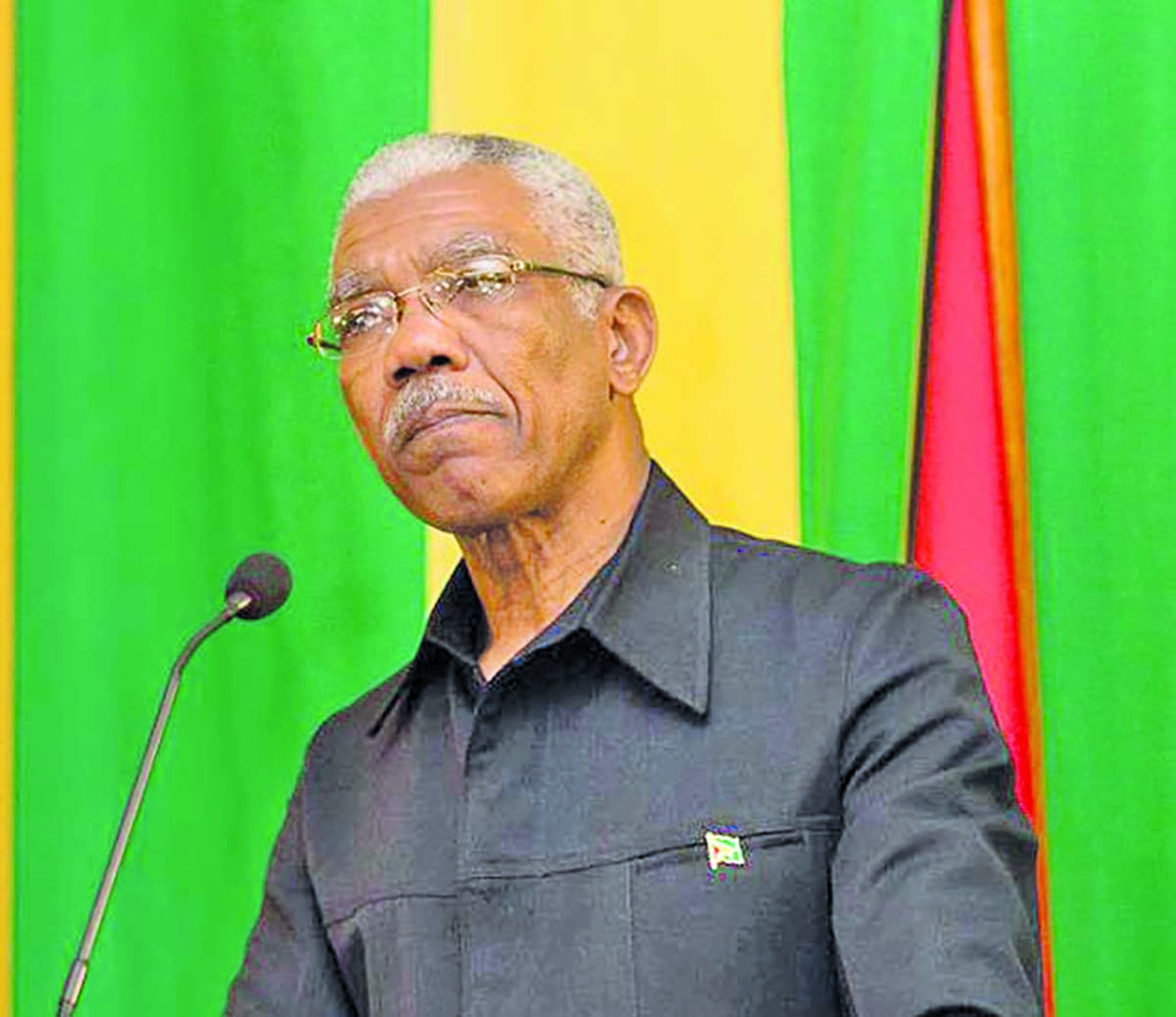 "A respondent, your honour, must mean a properly named respondent. So, by filing that notice to say that he is not opposing that petition, Mr Granger has implicitly or rather, expressly accepted that he is a properly named respondent. That is what the Section gives him the power to do," Nandlall argued.
"Any of the named respondents, including (fourth named respondent) Bharrat Jagdeo or anyone else, have an option in the law to choose not to oppose the petition. And Mr Granger has exercised that option. Mr Granger cannot contend that he is not a proper party in the petition and then use a mechanism in the Act that is directed to proper respondents. He cannot have it both ways, your honour."
In addition, Nandlall noted that for a party with so much at stake in the case to absent himself would go against the very principles of natural justice. According to Nandlall, there are multiple legal precedents for this. Indeed, Nandlall cited Sections of the law and several legal precedents in his submissions.
He cited Section 4(2) of the National Assembly (Validity of Elections Act), noting that it mandates the representative of the list of candidates at the elections to be named as a respondent, once their interest conflicts with contentions in the petition.
Nandlall also cited the case of Barnwell v the Attorney General (1993), in laying out the necessity of all representatives of the list of candidates appearing. He also cited the ruling of Mohan Raj v Surendra Kumar Taparia & Ors, 1969, in noting that necessary parties cannot be excluded from the case.
No jurisdiction
Nandlall also noted that once defective service has been established, the court has no jurisdiction to hear that petition. The point was reinforced by Mendes, who argued that Granger is a proper party, since the petition concerns him and the party he leads and would lead to their loss of 31 seats in the National Assembly. He also dived into why the petition is defective.
According to Mendes, the affidavit of service has the wrong date and the explanation does not add up. He noted that service within time is yet to be proven and as such, the petition should be dismissed.
"Your honour, you raised the question of service on the 22nd of October. It should have been apparent to everyone why you were raising it, because it was out of time. One would have expected that if an error was made in the affidavit, either you would have been told right away that there is an error and they would correct it and within a very short period of time affidavits would have been filed correcting the issue of service."
"But it was not until we filed an application asking the petition be dismissed and another 12 days elapsed before an affidavit was filed seeking to correct the date of service," Mendes argued before the court.
Oral arguments were also heard from Attorneys-at-Law Kashir Khan and Senior Counsel Basil Williams. Khan reiterated that defective service of a notice would render the entire petition null and void. At the end of their arguments, the Chief Justice adjourned the case until December 1, at 09:30h, for the continuation of oral arguments from Senior Counsel Roysdale Forde and Mayo Robertson.
Nandlall had filed an application since November 10, requesting the dismissal of the second election petition on the grounds that it was served in breach of the requirements under Section 2 of the National Assembly Validity of Elections Act.
Justice George herself had also raised concerns regarding the timing of the service of the petition during the previous case management hearing. In fact, she had pointed out that service of the petition on the second named respondent in the matters – APNU/AFC's leader David Granger – was "out of time".
She had pointed out that according to the rules, the petition must be served within five days of filing on the respondents, but the court records show that the petitions were served until September 25, 2020, when they were filed on September 15. The coalition's side has, however, denied that service of the petition breached the rules. (G3)