…body bore 12 bullet wounds, suspects used car with 'fake' number plate – Police
Thirty-three-year-old Anthony Charles also known as 'Skiddle' was on Monday killed execution style along D'Urban Street, Werk-en-Rust, Georgetown by occupants of a motor car.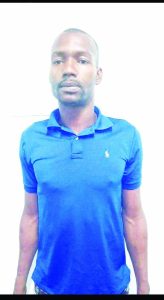 Preliminary investigation revealed that on the day in question at about 11:30h, Charles of Leopold Street, Georgetown was in the company of Dexter Lawrence, 43, when a silver grey old-model Allion motorcar, bearing registration number PVV 5906, approached the duo from behind.
The two men were reportedly heading to a shop to purchase alcohol. The occupants of the car reportedly opened fire but Lawrence started to run and managed to escape while Charles fell to the ground.
Lawrence told detectives that when he looked back, he saw the car stopped, and a male wearing a dark-red hoodie exited, walked up to Charles, and discharged several rounds at him.
After doing so, the man entered the car and it sped off the scene. Lawrence received a bruise to his right lower hand, which he said was caused by a bullet.
However, as detectives arrived at the scene, Charles was seen lying in a pool of blood on his back, clad in short blue pants, a white vest, a pair of red and blue puma boots on his feet, and a red, white and blue jersey was seen under his head.
His body bore three bullet wounds to his neck, one to his right jaw, one to his left jaw, one to his left-side forehead, one to his right-side forehead, one to his left hand, two to his right-side lower back, and two to his right shoulder.
Police discovered several 9MM spent shells, five warheads, and a metal fragment at the scene. Charles was pronounced dead at the scene.
Further, Police have since ascertained that the registration number of the car is fake. The body was escorted to the Memorial Gardens Funeral Home, awaiting a post-mortem. Several persons were questioned as police continue their investigations.
However, Charles is no stranger to law enforcement. Originally from Albouystown, Georgetown, he was charged and remanded to prison back in 2017 for armed robbery.
He was accused of robbing Bibi Nizan of $105,000 cash along Water Street in March of that year. It was reported that on the same day, he robbed Elizabeth Narine of a cell phone and $20,300 in cash.
On both occasions, he was armed with a Scissors.
Additionally, in the same month, this time on 25th, along North Road, being armed with a knife, he robbed Janice Jordon of a cell phone. Further, on March 28 of the same year, in Werk-en-rust, he robbed Mohan Persaud of $20,000, US$500 and a mobile phone.
During his court appearance, Charles pleaded not guilty and was remanded.