A local Disc Jockey (DJ) was on Sunday evening chopped to death while trying to protect his father-in-law from three men at Laluni on the Soesdyke/Linden Highway.
The dead man has been identified as 28-year-old Brian Pitam also known as 'DJ Viper' of Goed Hope, East Coast Demerara (ECD).
When contacted, Crime Chief Wendell Blanhum told the Guyana Times that based on initial reports, Pitam and his father-in-law, 51-year-old Kumar Bacchus were at Laluni Soesdyke Linden Highway when they were attacked by three men on Sunday evening at about 21:00h.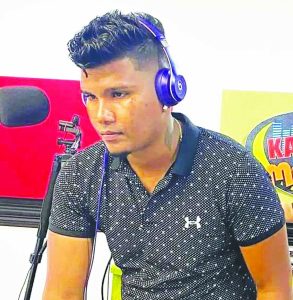 The trio dealt Pitam several chops to the head causing it to almost sever from his body. The men then turned their attention to Kumar who sustained a wound to his left wrist.
Further investigation revealed that Bacchus was imbibing at a shop when the three suspects confronted him and dealt him a lash on his face.
Pitam who was also there intervened and was dealt several chops about his body. The trio then rode off on their motorcycles.
Pitam was picked up by public-spirited citizens and rushed to the Georgetown Public Hospital Corporation where he was pronounced dead on arrival.
Police stated that Pitam's left thumb, index finger and middle fingers were severed along with the left wrist (partially severed) and a deep chop wound was seen to the back of the neck.
Divisional Commander, Mahendra Singh when contacted on Monday stated that a team of investigations was dispatched to the area to conduct further investigations. He nevertheless, confirmed that one of the three suspects was arrested and he is assisting with investigations.