– Norton says 'not worried'; motion cannot be filed outside of Congress
Reports have surfaced that the People's National Congress/Reform's (PNC/R) Florida chapter has compiled a No Confidence Motion against PNC/R leader Aubrey Norton, who is little over a year into his tenure as the party leader.
According to the reports, the motion is seeking Norton's resignation for failing to unite the party and keep the party vibrant. It also claims that Central Executive Committee (CEC) meetings have not been regularly kept and said that under Norton's leadership, the PNC/R has regressed.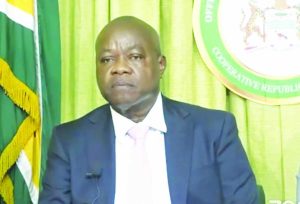 "The Party's image has been severely tarnished and a large number of our Members, supporters, and sympathizers have lost interest in this party. The business community from whom we got significant support has been withholding that support," the motion states.
Contacted on Monday, Norton professed not to have personally seen the motion. While he admitted he was aware about the reports of the motion, Norton noted that he was not worried since according to the party's laws, a No Confidence Motion can only be brought at the party's congress.
"I know that the party constitution does not provide for that. When you're going to change the leader of the party, you go to a congress. Only a congress can change the leader, as far as I know," he said.
"I've seen it (the reports) all about the place. But the amount of things I've seen… I wouldn't worry. But the party constitution doesn't provide for that," Norton said, reiterating that he isn't worried about the motion.
The party has in recent times been accused by its former Treasurer, Faaiz Mursaline, of not doing anything when he brought complaints of being racially attacked by a well-known party member, to the attention of leaders.
Mursalin, who is of East-Indian descent, resigned as Treasurer of the PNC/R in December 2022 after just one year in the position. In a damning letter to party executives, he leveled a number of accusations… including that he was forced to sign multiple blank cheques with no supporting documents. The party subsequently denied that there were no supporting documents, though it admitted that Mursalin did sign a number of blank cheques.
"Firstly, from the time I took office as the elected treasurer of this great party, I was signing blank cheques with no supporting documents. I am always called to sign cheques and whenever I share an opinion of dislike towards this, I am met with hostility. In the month of November, it got worse."
"I was told by the confidential secretary to the General Secretary that all I am needed for is to sign the cheques and in that month, I signed about 20 blank cheques. I do not know what are the amounts of money written on any of those cheques and I don't know for what reasons the money, if any were spent on," Mursalin said in his letter.
Mursalin also detailed other transgressions, such as when he submitted a workplan for the party to attract more finances and made suggestions that a financial audit of Congress Place be done. According to the former executive, PNC/R leader Norton did not take any action on either of these matters.
Nor is Mursalin the only resignation. The party was also recently rocked by the resignation of former General Secretary Geeta Chandan-Edmond, who was only appointed in January of 2022. Prior to her resignation, she was on leave of absence from the party.