On January 15, 2020, members of the Lusignan Golf Club's Executive Committee presented a Certificate of Honorary Membership to His Excellency Dr K.J. Srinivasa, High Commissioner of India to Guyana.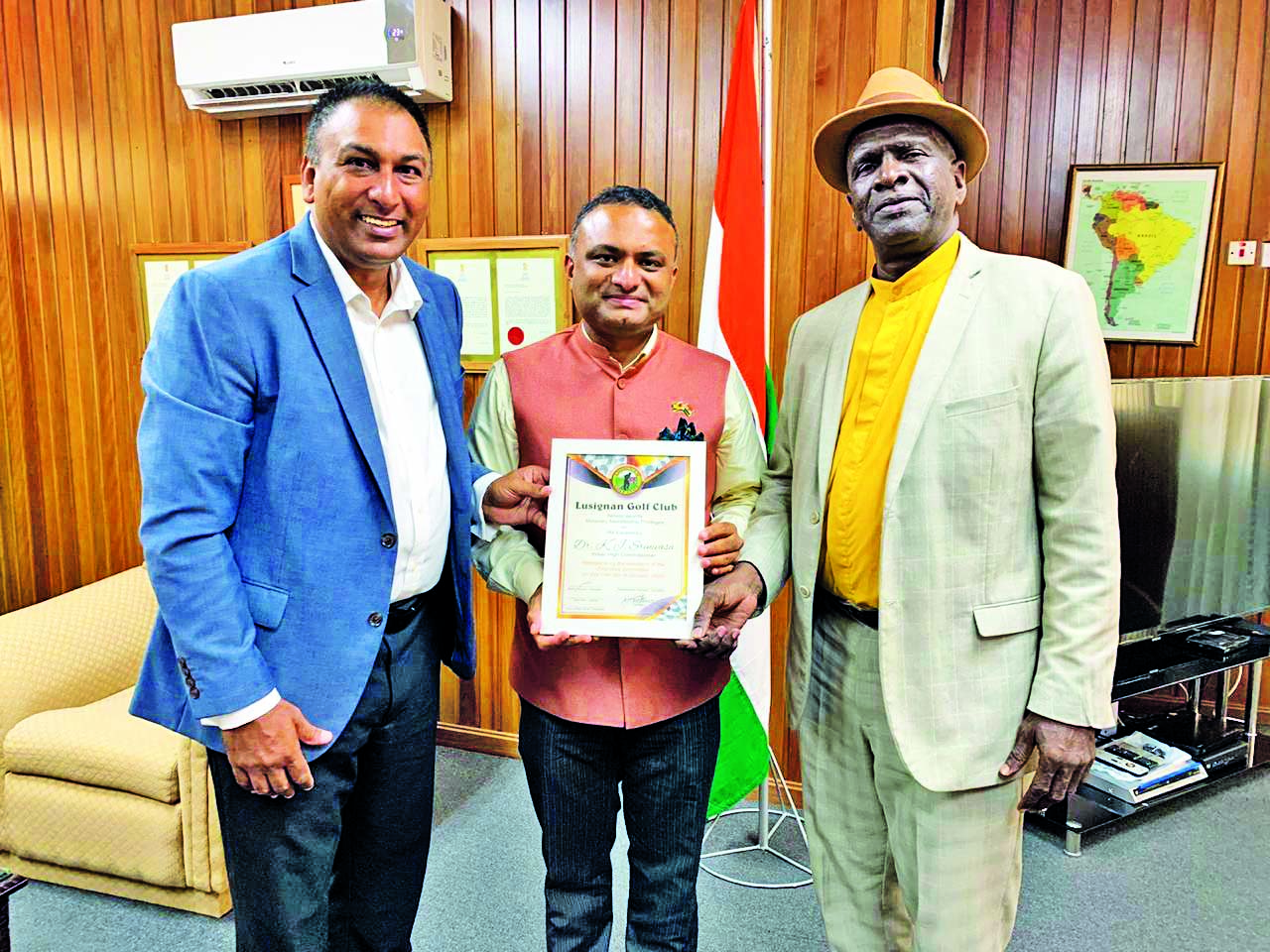 Under the leadership of current President Aleem Hussain and his team of executives, the LGC has made tremendous efforts to expand the appeal of the game of golf to a wide range of participants, and His Excellency Dr. Srinivasa is the latest addition to a long list of dignitaries who are now a part of the club.
LCG Secretary, Pandit Ravi Persaud, was among the first to welcome this High Commissioner to Guyana, and had impressed upon him the benefits of visiting the golf course.
The High Commissioner has said he is very impressed with the vision of the Club, and has committed himself to getting involved in the sport, along with his family members and other members of the Indian High Commission.
"I am very grateful to the Club's President and Executive for extending this honour to myself and family, and we all look forward to being at the Club on a regular basis," Dr Srinivasa has said.
The High Commissioner remarked that physical activity is an important part of everyone's life, and the tranquility of a golf course would add balance and beauty to those who seek to relax and find peace.
Dr. K.J. Srinivasa commenced his assignment as Consul General of India to Guyana in 2019. Having joined the Indian Foreign Service in 2002, he has worked in the Indian Embassy in Madrid (Spain) and in Lima (Peru).
Dr. Srinivasa also served as the Regional Passport Officer in Bangalore, India from September 2010 to April 2013, and was instrumental in the implementation of the Passport Seva Project (PSP).
He was Deputy Consul General in the Consulate General of India in San Francisco from April 2013 until July 2016, and was Consul General in Johannesburg, South Africa prior to his arrival in Guyana.
During the past two years, the sport of golf has seen a dramatic increase in the number of events, members and activities both on and off the course. Major contributions by MACORP have aided the development of the grounds and allowed more playing days than ever before.
This year, the LGC will host several special events, starting with the Easter Family Gatherings wherein thousands descend upon the grounds to celebrate. Plans for the third annual Soca & Wine Festival are among other plans being finalised.
Bishop Griffith, in welcoming the High Commissioner to the LCG on behalf of the Executive team and members, said: "We look forward to having you and your family being frequent visitors to our wonderful facility, and hope that the 'golf bug' makes you a regular participant in our events."
Persons desiring more information on the LGC, membership, activities, or about the sport are invited to visit the LCG Facebook page – lusignangolfclub or call 220-5660/645-0944.