Guinness "Greatest of the Streets" tournament…
…action set to begin on January 24 in Linden
Colours Boutique, in their longstanding relationship with Banks DIH, this afternoon made their contribution to the highly anticipated Guinness 'Greatest of the Streets' street ball tournament.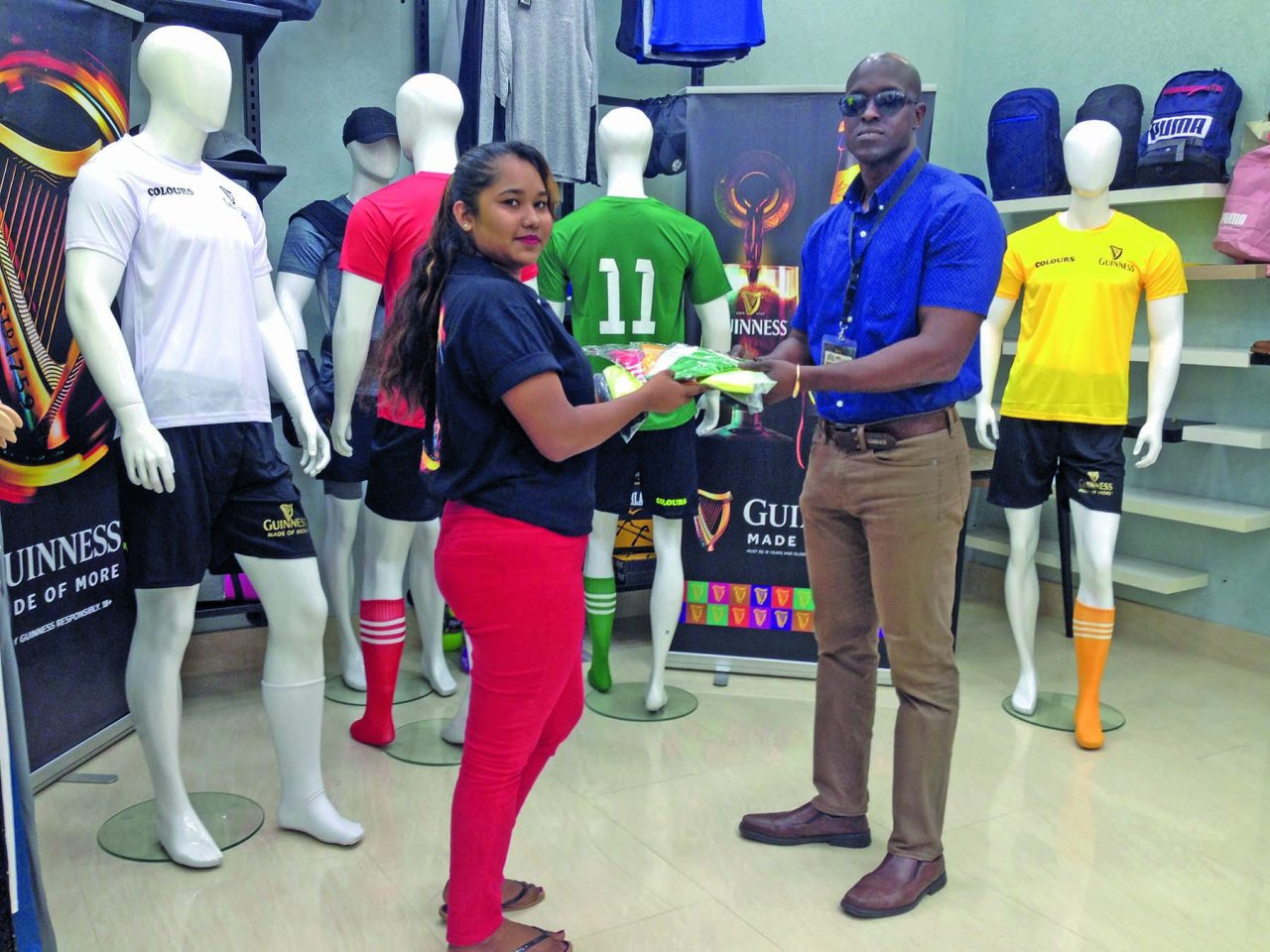 In a ceremony hosted at their spanking new outlet at 117 Regent Road, Bourda, Colours Boutique made the presentation of playing uniforms that will be used by the various teams throughout the Guinness 'Greatest of the Streets' tournament.
While this is not the first year that Colours have donated the complete playing kits along with socks, this year's uniforms have been noticeably improved in terms of material and branding.
Guinness Brand Manager Lee Baptiste has commended the clothing entity for going the extra mile in their contribution to the tournament, and has extended gratitude to the entity for this effort.
"As you know, Colours Boutique has been our sole major sponsor over the years, and again we want to thank them for providing uniforms for the entire tournament, and we want to thank them for giving us support. This year they went a step further in branding the uniforms, and that's great," Baptiste declared.
On behalf of Colours Boutique, Marissa Williams noting that the entity is always anxious for the tournament to start, and is happy to be of some assistance.
"I am a proud representative of Colours Boutique, and I'm here to say that we are always happy to be a part of this tournament, 'Guinness (Greatest of) the Streets'," Williams noted.
The year-long Guinness 'Greatest of the Streets' tournament commences on January 24 in the mining town of Linden. Baptiste revealed the playing dates of the Linden leg and shared his expectations for that round.
"It's going for four days. It's the 24th and 25th of January and the 7th and 8th of February. We expect 16 teams, stiff competition, and I expect a good tournament," Baptiste revealed.
After Linden, the Guinness street ball tournament will make its way to Berbice and all the other sub-divisions thereafter before the national championships are staged. East Coast, East Bank/West Coast, Bartica and Georgetown are some of the other subdivisions in the tournament.