…George optimistic ratio of female-to-male golfers will change
By Timothy Jaikarran
The Lusignan Golf Club (LGC) has always been interested in making golf a more diverse game. The current ratio of male to female golfers is unevenly balanced, but the LGC continues with its vision of making the sport more inclusive of females.
Speaking on behalf of the LGC, Vice President Paton George has said, "I'm glad you asked about the women in golf; it is important. Sometimes, we don't speak to that subject enough, even though we are working constantly on that subject behind the scenes in attracting diversity across gender and age. The women golfers traditionally have been well-supported at the Lusignan Golf Club, even though we haven't had the numbers equally in rivalling the number of male members we have."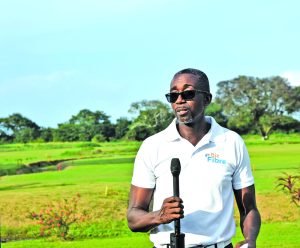 George has said it is his belief that the ratio of male to female golfers would soon change. He mentioned that one of the activities that would attract female golfers is the Golf Summer Camp that the club would be hosting in the last week of August. He said that women, more so mothers, are the more nurturing type, and when their children and families attend the LGC, the number of women will grow.
He said the LGC, in growing its membership, is taking an approach based on increasing diversity of attendance through programmes like the kids playing golf and the kids playing without being charged.
"It may not seem like we are targeting women, but it's not just the kids we are looking at, but who will bring the kids to the field. The likelihood is that the women, the mothers, the aunts, will bring their kids to the field," George has posited.
As Vice President of the Lusignan Golf Club, George explained, it is not rocket science to see that mothers are the ones who spend the most time with the kids, and once the club pursues children's activities, the mothers would come, and they are going to swing the clubs and play.
He said that female golfers around the world, who participate in leagues such as the LPGA, are equally skilled as some of the male golfers. "We are hoping, in fact I believe, that Guyana will soon see its first professional golfer be a woman golfer," he said.