…as new Chairman sworn in
The much-anticipated liberalisation of the telecommunications sector is a top priority of the Public Telecommunications Ministry and the new Public Utility Commission (PUC).
The assurance was given on Wednesday by Public Telecommunications Minister Cathy Hughes and the new PUC Chairperson, Attorney-at-Law Della Britton. Britton was sworn in on Wednesday at State House by President David Granger.
According to Britton, the Commission is being retooled to work speedily towards liberalisation.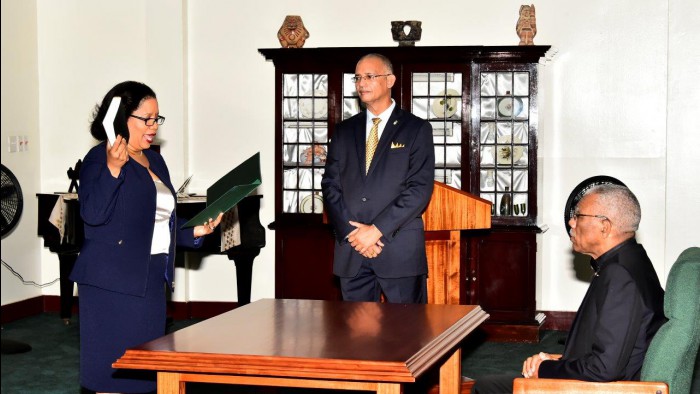 "We are on the eve of liberalisation, so the Commission is being retooled and I hit the ground running tomorrow to have it in place. All the necessary directives have to be put in place, because our mandate under the new regulations will expand beyond what is currently in place."
The two bodies are working towards a July month-end deadline for the freeing up of the monopoly on the telecommunications sector. Britton said her team, which comprises a dynamic group of professionals, is well schooled in the critical areas to take the process forward.
Minister Hughes said the legislation, which was assented to by President David Granger last year, has a number of new requirements that the Ministry was working through. Coupled with that, she said negotiations were ongoing between GTT and Atlantic Telecommunication Network (ATN), covering two tracks at the same time.
"The outstanding issues are issues in terms of the new pricing for spectrum (the main one) and then, of course, the process by which we would then receive applications for new licences." She said the system and process were completely new and would therefore take time to plan, recruit the right persons and move ahead.
The Telecommunications Bill was first introduced in 2011.However, it was revised in 2013 before being sent to a Parliamentary Special Select Committee in the 10th Parliament, and was near conclusion when that Parliament was prorogued in 2014 by the then President, Donald Ramotar.
When the legislation was taken before the National Assembly by the Government, the Opposition People's Progressive Party/Civic (PPP/C) had called for the Bill to be sent to a Special Select Committee for further consideration, but Minister Hughes had argued that the Bill had been long promised and was overdue.
The sector, she emphasised, must be an open one, so that the country can progress and not lag behind its sister Caricom countries and the rest of the world. The legislation provides for the fostering of an open, competitive telecoms sector to which investors will be attracted, and in which a fair, competitive environment for sector participants is created.