Gone are the days of going to the library just to read books as librarians across the country are now being equipped with the knowledge of building and programming robots to be able to share with young intrigued minds.
Presently, over 30 persons from various parts of the country are being trained in an initiative, which seeks to incorporate STEM (Science, Technology, Engineering and Mathematics) in libraries.
At the kick-start of one of the training programmes on Wednesday, which was hosted at the Racquet Centre on Woolford Avenue, Georgetown, Co-Founder of STEM Guyana, Karen Abrams explained the importance of having these vital areas involved in the lives of children.
Chief Librarian Emily King endorsed this message saying, "The libraries are seen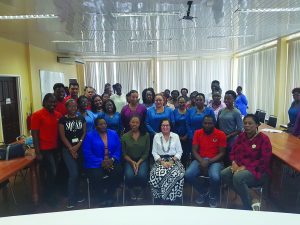 as a place whereby we can cultivate an interest in STEM and I know many of you, particularly the younger staff members, have a key interest in technology and this is one opportunity which is provided for you (librarians) in order to be adventurous and also innovative".
King in her address even urged the participants to, in the coming days, engage young folks and even the older ones, as they are altogether responsible for bringing about change in communities.
First Lady Sandra Granger who gave brief remarks said she feels quite excited about this new project which will combine two of her most loved childhood things, which are reading and robotics.
She said, "We recognise the importance of our young people, as our elderly, because I will say that some of our seniors are asking 'why aren't we getting training in robotics as well' and they have a point but at this point, we are focusing on our young generation because technology is where the jobs will be".
Granger shared that it was predicted that in the years soon ahead, 60 per cent of jobs will be done by robots. "A recent survey indicates that right now, 50 per cent of the jobs are being done by robots," she added.
The First Lady further stressed that women's jobs are likely to become obsolete because of this, hence the importance of becoming involved in robotics.
According to the Co-Founder of STEM Guyana, this happens to be the second training being rolled out, as just recently a number of other youths benefited from the sessions.
Currently the organisation is seeking sponsors as kits and other assets have to be bought for the trainees. So far GTT and a few others have come on board to sponsor meals and other necessities for the beneficiaries.