South Ruimveldt, Georgetown resident Delon Abrams, who shot and killed Guyana Police Force (GPF) rank Silburn Elias was on Wednesday sentenced to life imprisonment without the possibility of parole by Judge Sandil Kissoon at the High Court after he pleaded guilty to the lesser count of manslaughter.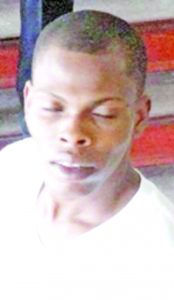 Abrams killed Elias on January 6, 2014 when the rank was attempting to re-arrest him after he had escaped from the Georgetown Public Hospital, where he was under Police guard.
It was reported that Abrams was caught and beaten by residents of Turkeyen, Greater Georgetown after he broke into someone's home in the area.
As such, he had to be rushed to the Hospital for medical attention. The previously convicted felon escaped from the Hospital stealing a Police Officer's .38 calibre service pistol in the process.
When pursued and confronted in Fourth Street, Alberttown, Georgetown by other ranks including an unarmed Elias, Abrams shot him twice, once to his chest and once to his left side.
In handing down the sentence, Judge Kissoon told the accused that the penalty for killing a law enforcement officer is death; however, owing to his early plea, he was sentencing him to life imprisonment.
Presenting the case for the State were Prosecutors Mandel Moore and Abigail Gibbs. Attorney-at-Law Maxwell McKay represented Abrams.